GPs want more radical NHS rethink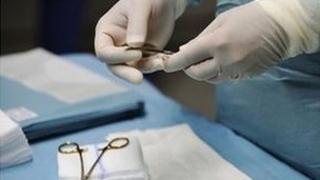 The re-think over the NHS overhaul in England must not be just a "re-spray job", GP leaders say.
Earlier this week David Cameron outlined a series of changes he was prepared to make to win over critics.
But Dr Laurence Buckman, of the British Medical Association, suggested the measures did not go far enough.
In a speech to the annual GPs conference, he also renewed calls for significant changes, especially to plans around competition.
Hundreds of GPs have gathered in London for the two-day meeting during which a number of critical motions will be debated.
The meeting is taking place just two days after the prime minister set out a number of concessions he was planning to make.
Under Health Secretary Andrew Lansley's original plans, consortia of GPs would be given much more responsibility for spending the NHS budget in England, while greater competition within the private sector would be encouraged.
It has been dubbed as the most radical overhaul of the health service since its creation in the 1940s.
Mr Cameron has now indicated his willingness to include hospital doctors and nurses on the consortia alongside GPs and also says the NHS regulator will have a duty to promote co-operation as well as competition.
But Dr Buckman, who is chairman of the BMA's GP committee, said what had been announced so far did not seem to go far enough.
"He has still not taken away the duty to promote competition. I want politicians of every stripe to understand that we do not need competition to run the NHS. It creates duplication that is wasteful.
"This bill whether substantially amended or not is going to alter the face of the English NHS forever."
He also said it was now important that ministers go further with their concessions.
More details are expected to emerge next week of how the plans could change when the panel set up to carry out the recent listening exercise hands in its report to cabinet.
Dr Buckman said: "My plea is please do not let this exercise just be a re-spray job to try to persuade us to accept the unacceptable."
The re-think over the NHS overhaul in England must not be just a "re-spray job", GP leaders say.