Doctors debate changes to clocks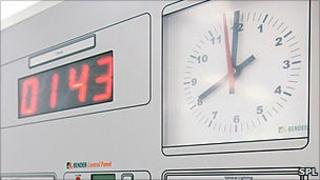 Doctors are throwing their weight behind a bid to move the clocks in the UK forward by an hour in both the winter and summer.
Delegates at the British Medical Association conference in Cardiff will argue later that it will help improve health as well as save lives.
The move would bring the UK in line with Central European Time.
A bill is already progressing through Parliament calling for the issue to be looked at.
It says if an official analysis suggests there would be benefits, then the system could be piloted for three years.
Supporters have argued such a move would lead to an extra 235 hours of daylight after work each year and reduce road deaths by between 80 and 100.
Research has also suggested tourism would get a boost.
Previous attempts to change the system have faltered following opposition from Scotland where some places would not see daylight until 10am in the depths of the winter.
But Andrew Green, a GP from Hull, said the problem was confined to the north of Scotland and could be avoided by measures such as flexible starting times for schools for a few months.
He also pointed out that research suggested it was better to drive in the dark in the morning as people were more alert.
But he added: "In the end you have to go for what gives the greatest benefit for the greatest number. Changing the clocks would mean people are more likely to be active.
"It would encourage children to stop playing on the computer and go outside instead of risking getting run over in the dark."
Scottish opposition
Professor Vivienne Nathanson, the BMA's head of science and ethics, said: "I think it should certainly be looked at with a trial to see if it really would save lives."
She also said the UK could look at having different time zones if it did not work for some parts of the country - although this is something that Prime Minister David Cameron has said he would not want to see.
A range of other organisations have already given their backing to changing the system, including the Royal Society for the Prevention of Accidents, which has been campaigning for it for decades.
But the Scottish Government said it was still opposed to the move.
A spokeswoman said: "Changing the system would adversely affect Scotland, which is why we oppose it. The impact would be felt by rural communities and outdoor workers and businesses, and could potentially increase the danger of children travelling to school in the dark."
Clock changes have been tried in the past. During World War II clocks were moved forward by an hour to maximise productivity and ensure people got home safely before the blackout. Between 1968 and 1971 BST was kept throughout the year.