Doctors reject changes to clocks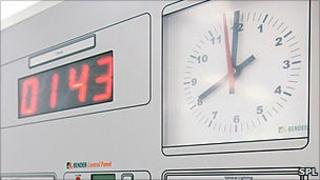 Doctors have refused to back calls for moving the clocks forward an hour in both the winter and summer.
The issue was debated at the British Medical Association's conference in Cardiff.
Medics supporting the idea - which would bring the UK in line with Central European Time - argued it would improve both health and safety.
But delegates refused to back the motion after hearing there was a lack of categorical evidence.
Those campaigning for a change in the system said it was now time to put pressure on MPs to carry out an official review.
A bill is already progressing through parliament calling for the issue to be looked at.
It calls for an independent analysis to be carried out and if that finds there would be benefits for the system could be piloted for three years.
Supporters have argued such a move would lead to an extra 235 hours of daylight after work each year and reduce road deaths by between 80 and 100.
The BMA motion on the issue was proposed by Hull GP Dr Andrew Green, who argued that it would lead to children being more active after school and safer roads.
Speaking after it was rejected by the conference, Dr Green said: "It is disappointing, but I think what we need now is an objective look at the issue. Plenty of people are convinced it would be good so if we can get the evidence we can go from there."
Scottish opposition
Previous attempts to change the system have faltered following opposition from Scotland where some places would not see daylight until 10am in the depths of the winter.
A Scottish Government spokeswoman confirmed ministers were still against the move.
She said: "Changing the system would adversely affect Scotland, which is why we oppose it.
"The impact would be felt by rural communities and outdoor workers and businesses and could potentially increase the danger of children travelling to school in the dark."
Clock changes have been tried in the past. During World War II clocks were moved forward by an hour to maximise productivity and ensure people got home safely before the blackout. Between 1968 and 1971 BST was kept throughout the year.