GP practices need 'obesity army', expert says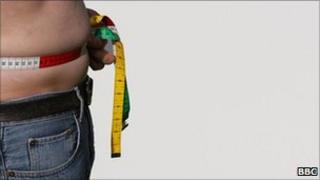 Every GP practice should have a team of obesity specialists, able to help people lose weight and prevent serious problems developing, a leading expert suggests.
Professor Tony Leeds, writing in the BBC News 'Scrubbing Up' column, says this would cut the numbers needing specialist hospital care.
He says the problem stems from a lack of training.
GP leaders welcomed a more "structured approach".
Diet plans
Obesity costs the NHS around £4.2bn annually.
One in four adults are now obese, according to the latest government figures.
And a report published in 2007, the government-commissioned Foresight report predicted that if no action was taken, 60% of men, 50% of women and 25% of children would be obese by 2050.
Prof Leeds, who runs obesity clinics at London's Whittington and Central Middlesex hospitals, says in Scrubbing Up: "I have patients who are several stones overweight and blighted by diabetes, and there are those who are up to 60 stone (381kg), awaiting surgery.
"Yet if real help was more available in primary care fewer would reach me and my colleagues in specialist hospital centres in the first place."
He says people with relatively little weight to lose - 10-15lbs (around 5kg) can be offered conventional diets, while those who need to lose a lot - five stone (31kg) may be referred for surgery.
But it is those in the middle who, Prof Leeds suggests, currently lose out.
He says the key was improving training for GPs in the care of people with weight problems.
Other primary care staff should also be given better training, he says.
And he suggests tailored diet plans, plus more effective support, could be offered.
Dr Clare Gerada, chair of the Royal College of GPs, has said GPs would welcome a structured approach to obesity care, but that it would have to be properly funded and resourced.