Swine flu jab 'narcolepsy risk'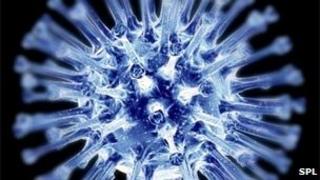 A swine flu jab has been linked to rare cases of a sleeping disorder and should be the last line of protection for young people, European regulators say.
The European Medicines Agency (EMA) said Pandemrix should only be given to children and teenagers at risk of H1N1 flu if other jabs are unavailable.
More than six million doses of the vaccine have been given in the UK.
Ten suspected cases of narcolepsy linked to the vaccine have been reported to the UK's drug regulator.
Pandemrix, made by GlaxoSmithKline (GSK), was the most widely used in the UK during the 2009/10 flu pandemic.
However, the vaccine is no longer in use and the remaining stocks will be destroyed this autumn.
The EMA's investigation followed reports, mainly from Finland and Sweden but also from Iceland and the UK, of children and adolescents suffering the sleep disorder narcolepsy, which causes people to fall asleep suddenly and unexpectedly.
It said studies had shown a six to 13-fold increased risk of narcolepsy in children and adolescents vaccinated with Pandemrix compared with unvaccinated children.
In a statement, the EMA said it had "noted that the vaccine is likely to have interacted with genetic or environmental factors which might raise the risk of narcolepsy, and that other factors may have contributed to the results."
Unknown factors
Overall, Pandemrix has been given to more than 31m people worldwide.
In a statement, GSK said it had received reports of 335 cases of narcolepsy in people vaccinated with Pandemrix by the start of July.
The company added: "GSK is committed to patient safety and will continue to work closely with the EMA and other national regulatory organisations in the best interest of patients."
A spokesperson for the UK's drug regulator, the Medicines and Healthcare products Regulatory Agency (MHRA) said: "The annual seasonal flu vaccines have not been associated with the development of narcolepsy, and there are no new safety concerns associated with these vaccines.
"These vaccines remain recommended for protection against seasonal influenza."
She added: "The MHRA has been fully involved in the European safety review of Pandemrix vaccine.
"It is possible that other geographical factors in Sweden and Finland, at the time of the pandemic, have contributed to the cases of narcolepsy seen after vaccination with Pandemrix.
"These factors remain unknown, and further studies are ongoing to explore this.
"The regulatory action for Pandemrix vaccines recognises the potential seriousness of H1N1 infection and ensures that the vaccine remains a licensed alternative to protect children and adolescents in need of protection against H1N1, if seasonal vaccines are not available."