Breast screening benefits questioned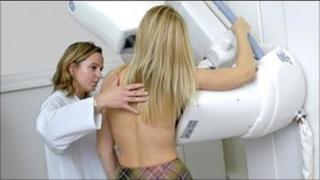 Screening has not had a significant impact on the fall in deaths from breast cancer, a study claims.
Researchers compared three pairs of European countries, where one had introduced a screening programme much earlier than the other.
But the British Medical Journal paper found similar death rates.
The authors say better treatment and efficient health systems were likely to explain the improvements, and suggest a move away from universal screening.
It has been shown that cervical cancer screening has led to a fall in deaths from that disease, and the researchers from France, the UK and Norway wanted to see if the same was true for breast cancer.
They compared the Netherlands with Belgium and Sweden with Norway, as well as Northern Ireland and the Republic of Ireland - each pair of countries had similar healthcare services and risk factors for breast cancer.
Mammography screening was implemented around 10 to 15 years later in the second country of each pair.
'Saddened'
The researchers expected that a reduction in breast cancer mortality would appear sooner in countries with earlier implementation of screening.
They studied data from the World Health Organization (WHO) mortality database on cause of death covering the period 1980 to 2006 and data sources on risk factors for breast cancer death, mammography screening, and cancer treatment.
Breast cancer death rates varied little between countries where women had been screened by mammography for a considerable time compared with those where women were largely unscreened during that same period, say the authors.
And the greatest reductions were in women aged 40-49, regardless of the availability of screening in this age group, they said.
From 1989 to 2006, deaths from breast cancer fell by 29% in Northern Ireland and 26% in the Republic of Ireland; by 25% in the Netherlands, 20% in Belgium and 25% in Flanders; and by 16% in Sweden and 24% in Norway.
Dr Philippe Autier, director of the International Prevention Research Institute in Lyon, France, who led the study, told the BBC he was "sad" to see its results.
"There is a real question about the benefits of breast screening. It's clear from the data that screening is not a panacea for reducing women's risk of dying from breast cancer."
Dr Autier said there should no longer be a "blanket offer" of screening, and that the process should be "much more targeted".
And he said the findings would apply to other countries, including the rest of the UK which has the same screening policy as Northern Ireland.
'Early detection'
But a spokeswoman for Northern Ireland's breast screening programme said: "Evidence shows that breast screening reduces deaths from breast cancer.
"It is the most reliable way of detecting early breast cancer at a stage where treatment can be more successful."
Professor Julietta Patnick, director of the NHS Cancer Screening Programmes in England, said: "Here in England we do know that the best evidence available shows that women aged 50-69 who are regularly screened are less likely to die from breast cancer.
"The WHO's International Agency for Research on Cancer (IARC) estimates that there is a 35% reduction in mortality from breast cancer among screened women aged 50-69 years old; and in England, the independent Advisory Committee on Breast Cancer Screening estimates breast screening saves 1,400 lives each year."