Encouraging the next generation of doctors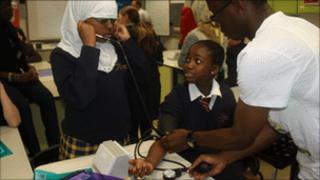 Even to those who aren't getting that old, the medical trainees applying a defibrillator to the chest of a dummy patient would have looked remarkably young.
Shivangi and Sofia were taking turns to do chest compressions on the resuscitation dummy in Lewisham hospital's training ward.
They were just thirteen, and were taking part in a programme designed to interest pupils from their south London schools in a career in medicine.
Sofia seemed to need little encouragement. She told me it had been a "lifelong dream" to become a doctor.
She said her parents and her whole family were encouraging her, and that although no-one in her family was a doctor, she was willing to live up to their high expectations.
"So, who here wants to be a doctor?" asked Dr Joe Lipton as he led the group at an energetic pace along the hospital corridor. Half a dozen hands shot up.
"I want to be a surgeon," said Courteney. Dr Lipton thought that was a great idea, since he's a senior house officer, training to be an anaesthetist.
He also thinks the project to encourage would-be doctors is "fantastic".
Dr Lipton says, "I certainly found I had no idea about medicine when I went to school, and I went to school in this area. I think if you don't have any medics in your family, then it's not something that immediately springs to mind as a career choice, particularly as some of these guys probably haven't met many doctors in their lives."
Confidence boost
Although these students might already have the ambition, this scheme also aims to help them develop the kind of experience and confidence that will give them an edge in the fierce competition for future places at medical school.
The Liberal Democrat MP Simon Hughes' recent report for the government recommended that pupils even as young as ten or eleven should be given encouragement towards university in order to promote social mobility.
Dr Danny Ruta, the director of public health for Lewisham, who has helped to organise the scheme, believes that early encouragement for local students, which continues through their school career, is the way to broaden access to professions like medicine.
Dr Ruta said: "We thought if we could catch them at the age of twelve or thirteen, and then for those who have a natural aptitude, and who have what it takes to be a doctor, then we could make them much better prepared for the entrance exam, for the interview process, and for life as a medical student. "
The project envisages developing potential doctors through giving them mentoring and work placements over the next five or six years.
St Matthew Academy in Lewisham is one of the schools taking part. The school's vice principal, David Cregan, says all his students regularly join in schemes where they meet businesspeople and professionals such as lawyers.
He says it has shown results for pupils who don't come from privileged backgrounds: "We took over a failing school. In doing that, we took over some quite troubled youngsters with us, but some of those youngsters have totally identified with what we're doing, they were very enterprising, and many of them have now actually managed to start their own businesses."
Some of the St Matthew's students who were being shown around a local GP practice were already getting to grips with the big life and death questions which doctors have to face.
Muna asked the GP Dr Abraham whether he'd ever seen a patient with an illness he couldn't diagnose who then died of it. Her friends gasped at the question, but Dr Abraham answered calmly.
Perhaps it's not surprising, then, that Muna already has her heart set on becoming a neurologist. "I like talking about brains," she says. "I like talking about nerves and stuff like that; it's really interesting."
The hope is that one day Muna, or other students like her, might return as qualified doctors to practice in the area they grew up in - and in turn encourage the next generation.