Health wins as spending shrinks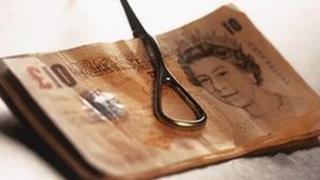 Health will account for almost a third of all UK government spending by 2015, according to a report from the Institute of Fiscal Studies.
This is due to both a long term term shift in priorities, and the planned cuts in government spending.
The NHS faces growing financial pressure as the demand for care and the costs of providing it continue to rise.
These overall figures don't reflect the variation in health spending plans in the four nations.
For its report the IFS looked at trends in government spending from the late 1970s onwards. Paul Johnson, the director of the respected think tank, said "The way the state spends our money has shifted to a remarkable extent towards spending on health and social security over the past 30 years."
During that time the share of public money spent on areas like defence and housing has fallen. In the 1990s spending on the NHS grew in some years at a record rate, leading the IFS to describe it as "the big winner" of the decade.
This was in part due to the attempt to close the gap between the UK and European neighbours, which have traditionally spent a greater share of their national wealth on healthcare.
Under the latest UK government forecasts the squeeze on other areas of spending is set to continue, with some of the sharpest falls expected in local government, the Home Office and the Ministry of Justice.
As the population continues to age, the think tank says there are hard choices ahead. The demands of healthcare, pensions and social care on public finances are likely to continue to grow. Their report says either some way has to be found to cap these costs, or to cut further in other areas.
Jo Webber, from the NHS Confederation, said although the NHS has had the luxury of above average increases in the past, that would no longer be the case. She warned: "It will require some really tough decisions about how we plan and deliver services."
The IFS analysis is based on UK-wide figures and forecasts from the Treasury and new Office for Budget Responsibility. In reality, the financial prospects for the NHS vary depending on where you live in the UK.
In England the health service has been promised a real terms increase every year, although that is under pressure from inflation. The Department for Health said the NHS will be expected to modernise to meet future challenges.
The Scottish government has promised to protect health spending also, but in Northern Ireland and Wales it faces real terms reductions in the coming years.