Q&A : Why Chase Farm matters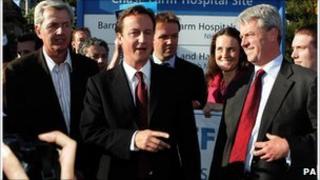 The fate of Chase Farm has proved one of the longest running controversies in NHS reconfiguration. Local campaigners want to maintain a full range of care - but NHS managers warn the best quality care can only be provided by centralising some services.
Why does this decision matter ?
This is about how health services are arranged between three hospitals in north London. Barnet and Chase Farm are part of the same NHS trust, and look after communities that overlap with the area covered by North Middlesex University Hospital.
But the decision about these three hospitals has a much wider significance.
It will also be seen as a test of the government's mettle on making politically controversial decisions on the future of hospitals in England.
With growing financial pressure on the NHS, many experts argue the health service is trying to provide key services such as a full A&E unit and doctor-led maternity care at too many hospital sites.
What exactly is being proposed ?
The key changes are to A&E and maternity services.
Under the proposals, Chase Farm would no longer have a fully operational A&E - although will have an urgent care centre.
Anyone needing serious emergency care, for example after a road accident, would go to Barnet or the North Middlesex.
Doctor-led maternity care would also be concentrated at these two hospitals, with a midwife-led unit kept at Chase Farm.
Hospital doctors have supported these plans, arguing they would improve care for patients.
How controversial have these plans been?
They have provoked furious opposition from local councillors and patients who set up the Save Chase Farm campaign in 2004.
Concerns about increased travel times and poor public transport have been raised. Some have argued that Chase Farm has suffered from neglect, with previous promises of investment in the hospital not kept. There are worries that alternative services won't be fully in place before any changes happen.
Who has the final say ?
The final say in controversial cases such as this rests with Andrew Lansley, the Health Secretary in England.
The local NHS draws up proposals, which are seen by local councillors who can appeal to the Secretary of State.
A body called the Independent Reconfiguration Panel (IRP) can be asked to review the evidence.
In the case of Chase Farm the IRP has broadly backed the proposals, but advised there should be several conditions attached. These include more detailed plans for how capacity at the other hospitals would be increased before any change at Chase Farm, and asking for more work to be done on improving public transport. Their report has been with Andrew Lansley since 8th July this year.
How politically sensitive is this ?
The political stakes are high for both the Health Secretary and Prime Minister.
In 2007 both Andrew Lansley and David Cameron joined local campaigners outside Chase Farm hospital. It wasn't the only visit of this kind. Labour ministers supported similar campaigns around this time. As leader of the opposition Mr Cameron promised "a bare knuckled fight" over the future of smaller district general hospitals such as Chase Farm.
In government the coalition kept a Conservative promise to call an immediate but temporary halt to all hospital changes in England.
All plans in the pipeline had to be reviewed to check they met four key tests. Some difficult decisions were delayed, but have not gone away. Andrew Lansley has said he wanted to put an end to "top-down reconfigurations of NHS services, imposed from Whitehall rather than led by the local NHS". Now he will have to decide whether to back the local NHS even when it wants to make controversial changes. Chase Farm is the first high-profile case.
Closing, or downgrading, an A&E department is a particularly sensitive issue. Every politician is aware of what happened in Wyre Forest, where the sitting Labour MP lost his seat to an independent candidate in 2001 after the closure of the emergency department at Kidderminster's hospital.
Where else might this happen?
In England some changes are already underway. Greater Manchester has a large re organisation of maternity services underway. Plans for large parts of London were put on hold during the moratorium but are now being re considered.
In each part of the UK, health ministers and NHS managers will be trying to engage local communities in this debate. A&E and maternity services in hospitals across North Wales are already under review.
In Northern Ireland Lagan Valley's A&E department is now closed overnight. Emergency care in Belfast is also under scrutiny as there are three A&E departments within relatively close proximity. Health unions and patients have already held a demonstration outside City Hospital as it is thought to be the most likely to face the threat of closure.