Delays in hospital treatment in England grow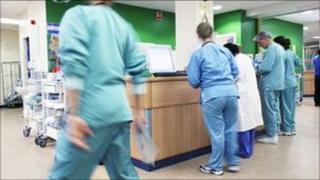 The number of people waiting more than four hours in A&E in England has nearly doubled in the past year, according to Department of Health figures.
Between April and June this year, 165,279 patients were not dealt with within the recommended four hour time limit.
In the same quarter in the previous year 86,626 people were not seen on time.
The Department said the figures were still on target.
Official government policy says patients should not wait more than four hours in accident and emergency between arriving and being admitted, transferred or discharged.
The target is for 95% of patients to be seen within that time.
Of the 5.4 million patients seen by A&E departments in the past quarter 96.99% were seen within four hours. In the same period in 2010 98.43% were seen on time.
Last week a survey of the top-performing NHS foundation trusts found that around one in six were concerned about their ability to meet the four-hour target in the current financial year.
A Department of Health spokesperson said: "These figures show that the vast majority of patients - 97% - are still being seen at A&E within four hours."
Initially, the target was for 98% of patients to be seen within the four-hour target, but the government lowered the target from 95% last year.
A spokesperson added: "We replaced the old four-hour A&E target because doctors said it was not in patients' best interest.
"For the first time, we are measuring the overall quality of care in A&E, as well as the time spent in A&E, which allows doctors to decide what is best for their patients.
"Today's figures confirm that, through this change, waiting times remain low and stable."