'It's not wimpy to use sun lotion'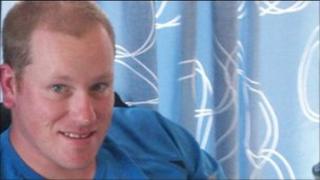 Spending his working life on construction sites meant David Denton spent a great deal of time exposed to the elements.
But the problem was his exposure to the sun.
The 34-year-old from near Halifax in Yorkshire was diagnosed with a malignant melanoma on his face in 2009, after his dentist persuaded him to get a worrying mole checked out.
He said: "I never really thought about the possibility of getting skin cancer even though I'm fair skinned and burn easily - and I think many men are the same.
"I'm not a sun worshipper, but as a construction site worker I spend about 40% of my working life outdoors.
"The company I worked for said we had to wear T-shirts and long trousers to help protect our skin, but it was still easy to get caught out and forget the strength of the sun sometimes."
He had to have surgery to remove the tumour, and he now has a large scar and stretched skin which, he says, looks "as if he's been glassed".
'Health and safety'
David, who works as a joiner, says his experience shows men should take more care in the sun, as a survey shows they are far less likely to use suncream or stay in the shade than women.
"Whatever they might think, men don't look like wimps if they use sun protection and they certainly don't look good resembling a boiled lobster.
"I am definitely more aware of protecting my skin from sunburn now, and always remind my mates to put on sunscreen, stick a cap on and keep an eye on their skin. "
David, who is a father of two, said there was definitely a "macho attitude" on sites.
"People were told to keep covered - not to remove clothing. But that was seen as 'health and safety gone mad'."
He added: "I'm lucky that my melanoma was spotted early but the disease can be deadly."
Increasing numbers of men are dying from malignant melanoma. Cancer Research UK statistics show that in the late 1970s, fewer than 400 a year died from melanoma but in 2008 more than 1,100 died from the disease.
By comparison, almost 950 women a year die from melanoma now, compared with about 500 in the late 70s.
A poll of 2,000 adults for Cancer Research UK by YouGov found only 47% of men used sunscreen of factor 15 or more, compared with 66% of women.
Almost a quarter of men forget to protect their skin, compared with 15% of women, and 14% of men were not worried about getting sunburnt, compared with 8% of women.
And only 60% of men are likely to spend time in the shade, compared with 72% of women.
Women are more likely to wear sunglasses - 68% versus 53% of men.
The poll also found 10% of men said they relied on partners to remind them to protect themselves in the sun, while only 2% of women said the same.
Caroline Cerny, Cancer Research UK's SunSmart campaign manager, said: "Men seem to be worse than women at protecting their skin in the sun."