UK among countries worst at tackling pancreatic cancer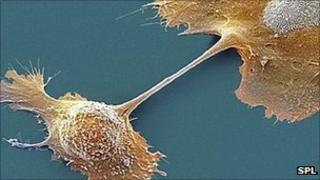 The UK ranks as one of the worst countries in the world in terms of survival for patients with pancreatic cancer, largely because of inadequate care, say experts.
A review suggests that although a fifth of patients with this deadly cancer could receive potentially life-saving surgery, only 10% do.
And many with symptoms see a doctor up to five times to get a diagnosis.
In Canada and Australia survival rates are twice that of the UK.
Pancreatic cancer has the poorest five-year survival rate of any cancer in Britain, with just 3% of people alive five years after diagnosis.
Most people die within six months of discovering they have the cancer, and only 16% are alive at one year, says the charity Pancreatic Cancer UK, which carried out the review.
England's cancer tsar Professor Sir Mike Richards said the review findings show that "We clearly have a long way to go before we can say with confidence that everyone diagnosed with pancreatic cancer has access to the best possible treatment and care available."
He added: "Pancreatic cancer is a challenging cancer - but we need to take this information and the opportunity it presents to improve survival and quality of life for everyone.
"Pancreatic cancer must not be written off as a hopeless cause."
Henry Scowcroft, of Cancer Research UK, said that this type of cancer was difficult to treat, but that was "no excuse" for patients in the UK faring worse than those in other countries.
"We urgently need to improve the way we manage the disease in this country," he said.
Pancreatic Cancer UK's study sought the views and experiences of 1,000 stakeholders affected by pancreatic cancer, including patients and their carers, GPs, nurses, pancreatic cancer specialists and researchers.
Pancreatic cancer kills about 7,600 Britons a year.
It is a difficult cancer to diagnose because many patients will not experience symptoms until the cancer has spread to other organs. Also, the symptoms can mimic other diseases.
The most common signs of the disease are pain in the abdomen which may spread to the back, jaundice, and unexplained weight loss.