NHS staff's poor English is 'potential danger to patients'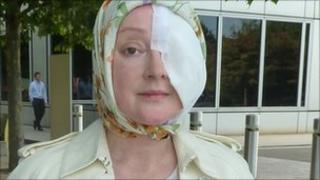 "I had to threaten to call 999 in order to get her to understand that I needed to see one of the doctors urgently."
Jan Middleton was in hospital recovering from brain surgery in 2009, and was woken up in the middle of the night by an eruption of infected fluids coming from her face.
She said the nurse on duty had poor English.
"I was saying, 'look, this is serious. I've had emergency surgery. The doctors need to know about this now'.
"I was getting very, very distressed and in quite a panic. Which is why in the end I said 'I'm dialling 999 for an ambulance,' and she seemed to understand at this point that she did need to do something about getting a doctor.
"But I don't think she understood half of the reason why."
Imperial College Healthcare NHS Trust, which oversees Charing Cross Hospital, where Ms Middleton was a patient, says numeracy and literacy assessments have been introduced into its recruitment process for nurses and it says verbal communication skills are also now tested at interview.
It says it has since had no further complaints of this nature about the ward Ms Middleton was on.
EU directive blocks test
But the English language skills of foreign nurses and doctors working in the UK remain a concern.
The General Medical Council (GMC) says some overseas doctors come to the NHS with 'little or no preparation' for working in the UK.
Along with the Nursing and Midwifery Council, it wants the right to test the English language skills of applicants from within the EU in the same way they test applicants from outside of Europe.
But an EU Directive prevents any systematic testing of language skills of doctors from the European Economic Area (EEA).
The GMC says UK legislation - the Medical Act 1983 - 'gold plates' the directive and prevents the GMC from doing any language-testing of doctors from the EEA at all.
Employers are allowed to assess the language skills of applicants from the EEA, but it is thought many do not.
A spokesperson from the GMC said:
"Doctors who come to work in the UK make a vital contribution to our healthcare system, but we must make sure they receive the support they need to practise safely and to conform to UK standards.
"It is unacceptable that the current system enables doctors to practise in the UK without a sufficient grasp of English."
The GMC says some overseas doctors come to the NHS with "little or no preparation" for working in the UK and those trained under different cultural and professional standards need more support.
The GMC is planning a basic induction programme for all doctors - including those who qualify in the UK - to help understand how healthcare is practised in the UK.
"Prove language skills"
An NHS doctor working in psychiatry, speaking anonymously to 5 live Investigates says that misunderstandings and confusion sometimes arise between some European doctors and their patients because of language difficulties.
She said on one occasion, a patient tried to explain that she was having recurring thoughts about an upsetting incident, but this was misunderstood.
"The doctor assumed the patient was hearing voices, whereas to others present it seemed clear that she was talking about difficult memories.
"The complicating factor was that the patient had learning difficulties and, was unable to articulate things in a straightforward manner."
In another incident, a European doctor did not understand what a Turkish patient meant when he said he could "pinch on an inch" around his middle to indicate he had put on weight because of the medication he was on.
"The doctor initially thought he was saying he had an itch and, ultimately, concluded he was making up words.
"Why this was so relevant becomes apparent when you understand the patient was on a psychiatric ward, and that this could have been documented as a symptom."
A spokesperson from the Department of Health said:
"This government is determined to make sure that foreign healthcare professionals are not allowed to work in the NHS unless they have proven their competence and language skills.
"We do think the Directive needs updating and we are in the process of responding to the EU proposals, but we can't pre-empt that response.
"We have already taken steps to strengthen the current system by introducing a duty for responsible officers to check the qualifications, experience and references of all doctors, including foreign doctors."
But poor English language standards are not just an issue among some European NHS staff, for whom English is not their first language.
Healthcare workers at the hospital Ms Middleton was treated at told 5 live Investigates the standard of English language spoken by staff is still an issue.
Asian nurses said they found it difficult to understand European colleagues - particularly those from Eastern Europe.
But when one was asked what a patient meant if they said they wanted to 'spend a penny' - slang for go to the lavatory - she replied "they want to spend money".
Ms Middleton, who is now a member of the Cure the NHS campaign, reinforced the need to ensure medical staff are competent in the English language:
"Anyone interviewing a potential employee knows if their English is adequate just by speaking to them.
"If they cannot understand straight-forward English conversation then, in my view, I feel they are causing a potential danger to patients."
A spokesperson from Imperial College Healthcare NHS Trust, said:
"We take patient experience and patient complaints very seriously.
"We care for a diverse patient population and employ a diverse workforce, and understand the importance of staff being able to talk to patients and their families in an appropriate way."
You can hear the full report on 5 live Investigates on BBC 5 live on Sunday, 18 September at 21:00 BST on BBC Radio 5 live.
You can listen again on the BBC iPlayer or by downloading the 5 live Investigates podcast.