Flu shots: Emergency stockpile of vaccines set up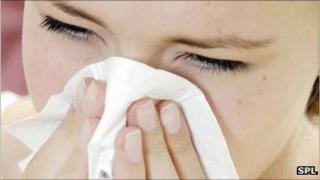 An extra two million flu vaccines have been ordered and an emergency "shot-pile" is being set up as health officials prepare for the flu season.
Last year there were reports of local shortages with older jabs being used to fill the shortfall.
The Chief Medical Officer for England, Prof Dame Sally Davies, said the contingency supply would be used to "smooth things out".
Pregnant women and other at risk groups are all recommended to take the jab.
Last year, 14.7 million shots were ordered. For this winter 16.7 million have been ordered and 400,000 will be kept in reserve.
For the second year running there will be no advertising campaign in England to raise awareness, unlike in Scotland and Northern Ireland.
Prof Davies questioned the usefulness of adverts, saying people "listen to trusted sources, not government".
She is instead relying on health workers, charities and pharmacies to target those at risk.
Bags of medicine from the pharmacist will carry messages encouraging people to have the jab as "patients in at risk groups are taking medicines," she said.
Last winter more than 600 people in the UK died as a direct result of catching flu.
The vaccine itself, based on advice from the World Health Organization, will again protect against swine flu (H1N1) as well as the H3N2 and Flu B strains.
These are the same three viruses as last winter, but the government's director of immunisation, Prof David Salisbury, warned patients they would be gambling if they were not immunised again this year.
"You actually need it just as much as last year," he said.
He warned there was no evidence that last year's shot would still offer protection and that "it's playing high risk stakes thinking you're protected".
Prof Davies again criticised healthcare workers who did not get vaccinated, saying they were "selfish" for not protecting their patients.
Last year 35% were vaccinated, up from 26% the year before.
Prof Salisbury said there had been renewed attempts to "persuade, influence and cajole employees", but there also needed to be improvements within hospitals to make it easier for staff to get vaccinated.
He said that at Birmingham Children's Hospital Foundation NHS Trust, 95% of front-line staff had had the seasonal flu jab, but that figure was as low as 10% in other areas.