Injured Libyan child's leg saved in UK hospital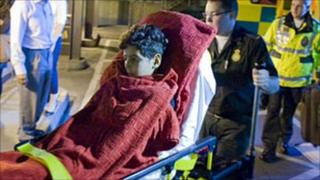 A Libyan child injured in the fighting in his home country has been flown to a London hospital for medical treatment.
Fifteen-year-old Abdul Malek El Hamdi was evacuated from Tripoli and brought to St Mary's Hospital on Thursday.
He suffered severe lower limb injuries and infected wounds when a grenade exploded at his school.
Doctors operated immediately to remove the shrapnel and are hopeful that they have saved his leg, but he may need more surgery.
The teenager is the first of up to 50 injured patients the Libyan government has asked the NHS to care for.
The treatment and rehabilitation that Abdul needed is not currently available in his native Tripoli.
On arrival Abdul had a full assessment by the A&E and trauma team at St Mary's Hospital.
Walk again
X-rays revealed Abdul's left leg was littered with fragments of the grenade, large pieces of which were embedded in his foot.
The surgical team decided to operate to remove the shrapnel and stem the spread of infection.
Mr Shehan Hettiaratchy, clinical lead for plastic and reconstructive surgeon, said: "Abdul suffered severe and life-changing injuries to his left leg. His wounds are infected and could have stopped him from walking again.
"We are delighted to be able to continue Abdul's treatment at St Mary's, and hopeful that we've saved his leg.
"Ultimately we want to give him the treatment he can't currently get at home so he'll be able to live a full and normal life again."
Abdul is currently being looked after on a children's ward.
St Mary's is one of London's four major trauma centres. Many of the surgeons have direct experience of dealing with bomb blast injuries, having worked directly in war zones and areas of natural disaster like Afghanistan and Haiti.
The cost of Abdul's care is being funded by the Libyan authorities.