Analysis: The debate over closing child heart surgery units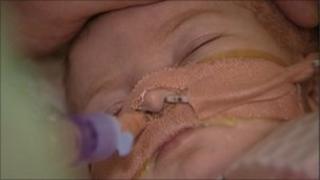 Nicolas Tompkins' parents believe he wouldn't be with them if it wasn't for the doctors and nurses at the Royal Brompton Hospital in central London.
At just four weeks old, he's recovering from a 15-hour operation to correct a complicated and rare defect in his heart.
Surgeons effectively had to re-wire it, after discovering that his lungs weren't properly connected, and he wasn't getting enough oxygen.
He was lucky to be treated by a world expert in his condition.
His parents are incredulous at the thought that the team which saved his life could be about to be broken up.
"Everybody we meet here, every doctor, every nurse, is clearly at the top of their game," said his father, Andrew Tompkins. "There's nowhere like this in the world. How could they want to close it?"
The reason is that children's heart surgery across England is being reorganised. And, as one of three hospitals in London carrying out this kind of specialised paediatric treatment, the Royal Brompton was told it would have to scale down its children's heart unit and stop doing all operations.
Other units in Leeds, Southampton, Newcastle and Leicester are still waiting for a decision as to whether they will also stop doing operations. Ultimately, at least four will close across England.
The review does not affect patients in Scotland, who are all treated in Glasgow. Welsh patients are treated in England, while patients in Northern Ireland travel to Dublin for treatment.
Bristol scandal
The review of children's heart surgery came about as a result of the inquiry into the Bristol heart babies scandal in the 1990s, when a number of babies died needlessly during operations by surgeons with insufficient experience. It concluded that children would get better, safer care if there were fewer, larger, more specialised units.
"We know the best results can only be achieved by surgeons and units treating a lot of patients," said Professor Norman Williams, President of the Royal College of Surgeons. "And we also know that patients benefit from units with enough surgeons to give a round-the-clock service."
Yet, as the Royal Brompton's experience shows, reorganising services is not straightforward.
Without cardiac patients, it says its paediatric intensive care unit would no longer be viable. And without intensive care, it would no longer be able to offer its specialist children's lung services - treating children with cystic fibrosis and other conditions. It says its respiratory unit is second to none in the country, and many, many patients will lose out.
And so one part of the NHS is going head-to-head against another in the High Court. Watching around the country are not just the other units under threat, but NHS hospital trusts which know they must reorganise other hospital services to remain viable and provide the best possible patient care.
Tough challenge
The NHS Confederation has said the reconfiguration process will become increasingly necessary; not just because of a tougher financial climate, but also to improve care.
"At the moment, we're not getting the best outcomes we can because some services are distributed across too many sites," said NHS Confederation Chief Executive, Mike Farrar. "If we get centres of excellence, we can save money and still get better care."
Reorganising services is one of the hardest things the health service has to do, said Chris Ham, head of the health thinktank, the Kings Fund.
"But it is absolutely necessary at the present time," he said. "Not first and foremost because of the financial pressures but because we will only deliver world class standards of care if we grasp this nettle and take decisions that are long overdue by concentrating some of those services in fewer hospitals."
The fight over the future of the Royal Brompton may well be one of many more to come.