Nurofen Plus goes back on sale in tamper-proof packs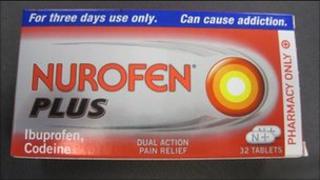 Nurofen Plus, withdrawn from sale after contaminated packs were found, will go back on sale in tamper-proof wrapping.
The new stock will start appearing on pharmacists' shelves next week.
Manufacturer Reckitt Benckiser said the new packs would be individually wrapped in clear plastic.
A 30-year-old man from south London has been remanded in custody after five Nurofen Plus packs were found to contain anti-psychotic and anti-epileptic drugs.
Christopher McGuire is charged with one count of contaminating goods and two of administering a noxious substance.
Recall
The new packs will be clearly distinguishable from the old, because of the cellophane wrapping.
Dr Aomesh Bhatt, medical director for Nurofen Plus, said the company wanted to assure customers it had "taken all possible steps" to prevent any recurrence.
Thousands of packs of the pain relief tablets were recalled after the first reports of contamination. Distribution was stopped on 26 August.
Four packs were found to contain the prescription-only anti-psychotic drug Seroquel XL 50mg. They were bought in the London areas of Victoria, Bromley and Beckenham.
A pack containing prescription medicine for epilepsy, Neurontin, in 100mg capsules, was discovered in Northern Ireland.
Seroquel XL is a prescription-only anti-psychotic drug used to treat several disorders including schizophrenia, mania and bipolar depression.
Nurofen Plus is for pain relief and contains codeine and ibuprofen.