'Power of football' helps keep elderly active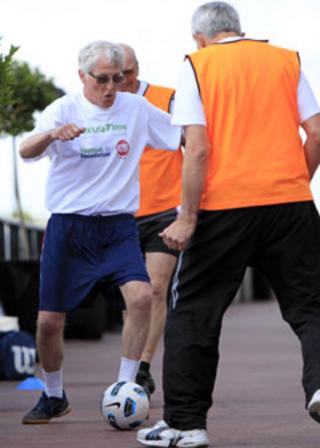 In a large blue room under one of Queens Park Rangers' stands, the sound of excited chatter fills the air as people anticipate the start of their regular weekly exercise routine.
Unusually though, all of them are aged over 60.
"It breaks up the week for me," says Peter Sangster, aged 84. "If I didn't come here I would just turn on the TV at home."
Peter is sitting enjoying a cup of tea at the west London football club with people he has come to know as friends.
The plates of biscuits on the tables remain untouched however - this is a project to improve the health and well-being of older people in the local community after all.
One of the Premier League's newcomers, QPR is running a programme for older people called Extra Time, and is in the third year of the scheme.
Funded by the Football Foundation and Sport Relief, Extra Time provides weekly opportunities for exercise and social interaction for older people at seven Premier League football clubs and more than 20 other professional football clubs.
More than 1,000 older people take part across the country, with clubs such as Everton, Spurs, Liverpool, Blackburn and Fulham all running similar schemes.
'Black hole'
"When you're working you think 'roll on retirement', but it's not quite like that when you get there," Peter says.
Before spotting an ad for Extra Time in his local paper, Peter had felt lonely and isolated following his wife's death.
Femina Makkar, who runs Extra Time for The Football Foundation, says this is a common feeling among men of a certain age.
"Older men stop working and fall into a black hole. They have had a routine of going to work all their lives.
"Women are generally the social networkers and if they are not around any more, men can struggle. Football and QPR pulls them in."
Although the rheumatism in his knee prevents Peter doing many of the indoor activities, like line dancing, chair aerobics, yoga, pilates, Tai Chi and Argentinian tango, he has been able to go bowling in the summer and try his hand at croquet and boules in the local park.
Today's session of line dancing and chair aerobics has attracted a crowd of people who are mostly in their 60s and 70s.
Anita and Jim Wilson are Extra Time regulars who love the social element of the project.
"We've met all these people. They took us to Windsor for a two-hour trip on the river and we had a day out to Brighton.
"We have always been active, but to be able to do all this is a great advantage for over-65s," Anita says.
Fun and friends
When the line-dancing instructor arrives, the obligatory banter begins. Tables and chairs are moved back and the music starts, getting everyone in the mood.
Cynthia, a local resident aged 77, is a firm fan of the project and the opportunities it has given her.
"It gives me a purpose coming here. I have to get up and get going and that's good for me. I don't want to be at home staring at my four walls."
"I have better body strength and co-ordination too - and I sleep well."
Femina Makkar says the health benefits of the project are both emotional and physical.
"If we just ran a physical exercise club, they wouldn't turn up. But because we advertised a club for fun, friends and activities, there is more take up.
"Social isolation is a big problem. Contact with other people is reassuring."
Most people live locally and walk to QPR, where all the indoor activities take place. A new activity every six weeks means the participants never get bored and they have also been treated to free tickets to watch QPR on match days.
Feedback from participants gathered by The Football Foundation shows that people feel healthier, happier and more motivated to exercise regularly after taking part.
And 70% said they found daily tasks like climbing stairs easier, with 21% saying they used the health services less.
With the line dancing over and the aerobic exercises completed, everyone sits down again to plan their next meeting. Faces are flushed and happy. Legs are tired but energised.
"We always leave with a smile on our face," says one lady as she skips for the door.