Millions of hospital meals uneaten, analysis suggests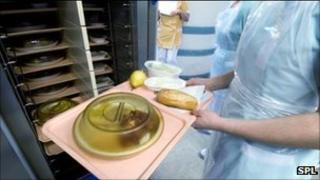 About nine million hospital meals - almost 8% - are returned uneaten across England each year, data suggests.
The analysis of the snapshot figures from 200 NHS trusts by SSentif suggests wastage could be costing the NHS millions every year.
Hospital trusts are responsible for their own catering provision and there is no government guidance on the issue.
But a health minister said trusts with higher levels of waste should learn from those with better records.
The analysis comes ahead of a Care Quality Commission report to be published later this week which will look at poor NHS practice over nutrition for the elderly.
The NHS should adhere to the government's protected mealtimes policy, which says wards should be free of visitors and non-emergency medical activity at mealtimes, and that patients should be encouraged to eat - as and when staff are available to helping them.
Mealtimes 'a priority'
The SSentif analysis looked at Estate Returns Information Collection (Eric) data - which all trusts have to provide on a particular day - on costs per patient per day, the percentage of meals requested and the percentage of meals returned untouched.
It found Ipswich Hospital NHS Trust had the worst record, with 29% of meals returned uneaten, while 25% go uneaten at the University Hospital of South Manchester NHS Foundation Trust.
In a statement, the Ipswich trust said: "At the time of our most recent Eric return, based on a one-day snapshot, waste was indeed at 29%, but since then the trust has been working with its hotel services contractor to reduce that figure which will now be considerably lower."
A spokeswoman for the Manchester trust said it had had a high percentage of meals returned.
But she added: "We discovered that staff on the ward, responsible for ordering food for our patients, were being over generous in the food quantities they ordered to create more choice and more menu options on the ward, particularly for our at-risk patients."
She said this no longer happened.
However, other trusts did have much lower figures. Less than 1% of meals are returned uneaten at Buckinghamshire Healthcare NHS Trust, Oxford Health NHS Foundation Trust (a mental health trust) and Barnet and Chase Farm Hospitals NHS Trust.
Judy Aldred, managing director of SSentif, said: "Trusts have responsibility for their own catering budgets and with no minimum standard set by government, the result seems to be huge discrepancies between organisations.
"Food waste in the NHS is also a big concern, as although some waste is inevitable in any catering environment, untouched meals in a healthcare situation have more worrying implications for patient health and nourishment."
Michelle Mitchell, charity director of Age UK, said: "Protecting hospital mealtimes needs to be a priority on every ward to ensure that patients have the help they need at mealtime with staff able to provide proper support to those who need it.
"Often, older patients require more support to eat a meal, especially after an operation or whilst receiving treatment, and this is often not taken into account.
"Hospitals must make nutritional care a top priority, so that older people don't go needlessly hungry."
Health minister, Simon Burns, said: "Those hospitals with high levels of waste should be looking to learn from the ones that don't.
"All hospitals should also make sure that every patient gets the help they need to eat properly, and offer good quality nutritious food. This is an essential part of hospital care."