Analysis: Why can some care be so bad?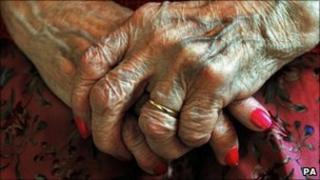 When confronted with the stark descriptions of NHS staff showing such a lack of basic care and compassion to some of its most vulnerable patients, the knee-jerk reaction is to blame the system.
In response to these findings by the Care Quality Commission, unions have been quick to point out that budgets are being squeezed and staff overworked and bogged down by paperwork
And while these are clearly issues, the problems run much deeper than that.
The CQC report, ordered by Health Secretary Andrew Lansley, was written following inspections of 100 hospitals after several highly critical reports by campaigners.
It clearly states that while finances and workload are factors, they are not the be-all and end-all.
Inspectors said they found examples of excellent care on poorly financed and busy wards and terrible care on wards with plenty of resources.
In short, what is essential in the first place is the attitude of staff.
One of the examples given by the CQC illustrates the point perfectly.
Two members of staff were on a ward helping feed patients. But instead of devoting their attention to the elderly people in their care, using the time to talk to them and put them at ease, the pair talked to each other.
Neglect
Of course, this is not the first time that these issues have been aired.
The Health Service Ombudsman, Patients Association and Age UK have all published accounts of elderly patients being neglected.
Perhaps one of the most harrowing accounts came out during the investigations into Stafford Hospital, which is currently subject to a public inquiry after patients needlessly died because of "poor standards", in the words of inspectors.
In some cases patients had to drink water from a flower vase because they could not summon help.
It would be wrong to blame this culture entirely on nurses. Nowadays a range of healthcare assistants and support staff work on the wards, while the attitude of doctors has also been questioned.
This is a point that has been made by Peter Carter, the general secretary of the Royal College of Nursing.
Last month he took to the airwaves, arguing the health service was too reliant on untrained healthcare assistants who were being asked to pick up nursing skills as they went along.
He called it "care on the cheap" and said the growing industry needed better regulation.
But, to his credit, Mr Carter did not duck the responsibility of his members.
He agreed there were some unacceptable examples of poor care that needed to be addressed.
He also criticised the quality of nurse training in some places, saying that over the years it had become too classroom-based.
It is worth pointing out that the CQC also found examples of good practice. Of the 100 trusts looked at - and many of these were targeted because they were known to be the worst in the health service - inspectors saw patients being treated with dignity and respect as well.
However, in the end a feeling remains that this is a problem that does not require a clever or fancy solution, just a return to the basics.
As Katherine Murphy, chief executive of the Patients Association, says: "The issues that are highlighted are not complex clinical issues, they are the most basic - the essentials of care that every patient is entitled to receive. They are issues around compassion and attitude.
"It is all too easy to ignore an older person who may have difficulty communicating or making their presence felt. These are our mothers, fathers, brothers and sisters."