GPs striking off patients 'with no warning'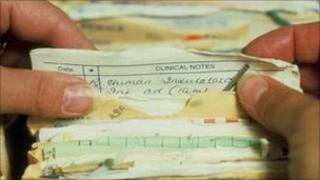 Some GPs are striking off patients from practice lists without warning, the Health Service Ombudsman says.
It said there were cases where whole families had been told to find a new doctor after one person was abusive.
The ombudsman also said the NHS as a whole was failing to adequately deal with complaints and many minor disputes were escalating.
The government said patients who felt unfairly treated by GPs should take the issue up with local health chiefs.
The ombudsman, which looks at serious complaints that cannot be resolved locally, investigated 10 cases where GPs had struck off patients from their lists - a fifth of the total GP-related cases they took on.
All of them were upheld.
Ombudsman Ann Abraham said: "What's really worrying about these cases is far too often GPs don't seem to be aware of what their NHS contracts require of them.
"Their contracts require them to give a warning before people are removed unless the circumstances are exceptional."
Ms Abraham said GPs had the right to remove patients from their lists if there was "an irretrievable breakdown and attempts to resolve it haven't been successful".
But she said: "What we see in far too many cases is a knee-jerk response to a single incident where an individual - sometimes a whole family - is removed."
'Dissatisfied patients'
The report cites one case where a terminally ill woman was struck off a GP list weeks before her death because her daughter changed the battery in a device administering medication.
In another, a dispute about the vaccination of a baby led to the mother and baby being removed from their GP's practice list.
A Department of Health spokesman said: "If any patient feels that they have been removed unreasonably or without warning then they can raise this with their local primary care trust."
Ms Abraham also took issue with the way complaints were being dealt with in general.
She said: "The NHS is still not dealing adequately with the most straightforward matters. Minor disputes over unanswered telephones or mix-ups over appointments can end up with the ombudsman because of knee-jerk responses by NHS staff and poor complaint handling.
"While these matters may seem insignificant alongside complex clinical judgements and treatment, they contribute to a patient's overall experience of NHS care.
"What is more, the escalation of such small, everyday incidents represents a hidden cost, adding to the burden on clinical practitioners and taking up time for health service managers, while causing added difficulty for people struggling with illness or caring responsibilities."
In total 15,186 complaints were looked at by the ombudsman last year with 9,547 referred back to the local health body because they had not completed the complaints procedure.
Only 349 were investigated with 79% (276) upheld with the others either withdrawn, falling outside the remit of the ombudsman or judged not to be justified.
Where individuals were unhappy with how their complaint had been dealt with, over a third cited either poor explanation or a lack of acknowledgement of a mistake.
In one of the most extreme cases Parliament was alerted after a dentist from Staffordshire refused to apologise to one of their patients.
Jo Webber, of the NHS Confederation, which represents trusts, said it was "absolutely essential" that the health service got better at dealing with complaints.
"We all know that things can go wrong in health care but where that happens people are entitled to be dealt with in a straightforward and respectful fashion."
But patient groups said the figures were concerning for other reasons. Both Patient Concern and Action Against Medical Accidents highlighted the fact that the ombudsman only took on a small number of complaints for investigation.
Joyce Robins, co-director of Patient Concern, said: "The ombudsman investigates a pathetic 2% of complaints reaching her office.
"There is no other right of appeal and the vast majority of dissatisfied patients are left at the mercy of trusts who are only concerned with watching their backs."