Charity calls for 'democratic revolution' in care homes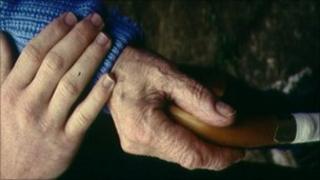 A leading health charity has called for a "democratic revolution" in the way care homes in Britain are run.
Sue Ryder, which specialises in looking after people at the end of their lives, says they should be governed for residents, by residents.
The idea comes in a report for the charity by the research group Demos on the future of care in Britain.
The Patients Association says the move would help give care home residents control over their lives.
The Demos report looks at one of the biggest challenges facing modern healthcare - how to ensure services fit with patients' personal needs and preferences.
In care homes it says that means giving residents a strong say in staff recruitment, purchasing equipment and organising activities.
Providers must move beyond resident consultation and discussion of the "small things", and give residents the opportunity to fundamentally design and influence aspects of their home and their care, it says.
Change of culture
The report argues that this is a matter of culture rather than cash.
It would cost very little to introduce decision-making opportunities and empower residents to 'own' their home, but it requires a fundamental rethinking of how homes are managed and how staff discharge their duties, it says.
The paper cites the example of Dee View Court in Aberdeen, which provides long-term residential care for people with neurological conditions including Multiple Sclerosis and Parkinson's Disease. The home is run by the Sue Ryder charity.
One of the residents, Heather Caytor, who is 50 and has MS, says she meets job applicants when they come for interviews.
"I show them around and ask them questions to see if they are appropriate. I ask them how they feel about residents telling them what they want to be done. And I ask them if there is anything they would do to improve the home."
She says managers at the home have never gone against her advice.
Patients Association chief executive Katherine Murphy says the idea is right for many care home residents.
"Care homes become the only home they know and unless they have some say in how it is run, they can feel like they have been robbed of control over their lives and their independence. Giving residents a chance to agree on how their care home should be run is a big step in changing this."
But Nadra Ahmed, from the National Care Association, is sceptical.
"It's a laudable ambition and it's what we'd want to happen. Regrettably more and more residents coming in are past the point of being able to make those choices. So we have to talk about shared responsibility with family and friends."
'Personal health budgets'
Steve Jenkin, director of health at the charity Sue Ryder, which sponsored the Demos report, insisted that it was important to share good practice.
"Some homes really do engage with individuals and with families and friends. We all need to learn from the excellent services that there are."
The report also casts doubt on the policy of personal health budgets, which provide cash for people to make their own decisions about NHS care. It says these are unlikely by themselves to deliver the results people want.
A spokesperson at the Department of Health in England defended the policy.
"There is new evidence that personal budgets can make an incredible difference to people's lives. Personal budgets are a means to an end: the greater personalisation of services.
"The government is committed to personalisation and the Vision for Adult Social Care, published in November 2011, made clear that we want everyone eligible to be in receipt of a personal budget by April 2013."