Amputee veterans' care gets £15m boost from government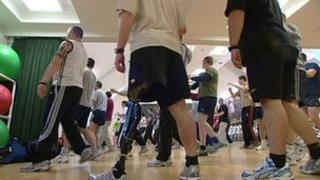 Prosthetics services for military veterans are to receive funding of up to £15m, Prime Minister David Cameron has announced.
A review of services was carried out after concerns from charities and service personnel that the NHS was under-equipped.
The Department of Health has now said a number of specialist units will be set up across England.
Mr Cameron said the report set out a "clear strategy" for better services.
The £15m, which has been found from the Department of Health' s contingency fund, is to be invested between April 2012 and 2015.
The government will now work with service charities, including Help for Heroes and The British Limbless Ex-Service Men's Association (Blesma) as well as NHS specialists, to create new high-quality NHS facilities for prosthetic limb provision and rehabilitation.
The aim is to bring them up to the same standard as the Defence Medical Service at Headley Court. That deals with personnel who are still serving, but once they leave it is the NHS centres which take on their care.
The government is also working with the administrations in Scotland, Wales and Northern Ireland to improve arrangements there.
Feedback from those using and running these facilities will also be applied to services run for patients from all backgrounds who need such care.
'Confidence'
Dr Andrew Murrison MP, who compiled the report for the government, said: "The rapid rollout of the recommendations I made last year on veterans' mental health has been impressive and I look forward to these latest proposals being progressed with the same enthusiasm.
"I hope the action points I have offered honour the military covenant and benefit military amputees but I have been clear that they should also help to improve the service available to all limb centre users."
Prime Minister David Cameron said: "As a country and as a government we have a particular duty to servicemen and women injured on operational duty.
"This report maps out a clear strategy for ensuring that those brave people can be confident they will receive the same levels of access to prosthetic limbs and specialist care from the NHS as they do at Headley Court. They deserve nothing less."
Jerome Church, general secretary of Blesma, said: "Over the last few years, our young veterans preparing to move on into civilian life have become increasingly concerned about the standard of prosthetic support they will receive from the NHS.
"We are now much more confident that the NHS will be able to provide the prosthetic support veterans need and deserve - for the rest of their lives.
"We are also delighted that this enhanced support will be extended to all veterans who lost limbs in earlier conflicts.!
Bryn Parry, chief executive of Help for Heroes, added: "It's recognition that military amputees need specialist support not currently available within the NHS."