How cervical screening embarrassment affects women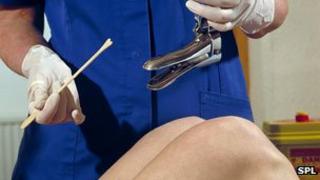 Women who are invited for a cervical smear test at their local surgery are unlikely to get through the screening without feeling a little embarrassed.
After all, it is a intimate and invasive procedure.
But does it have to be "painful, uncomfortable and personally threatening"?
This is how some women described the experience in a study of 34 women's accounts of cervical screening by researchers from the University of Leicester and Glasgow Caledonian University, published in Family Practice.
Most of the women (25 of the 34) who were interviewed reported embarrassment and discomfort in exposing an intimate and personal part of their body to the GP or nurse conducting the procedure.
Others said they felt vulnerable and saw the procedure as an invasion of privacy or even a violation.
One interviewee said: "It's just so cold. You go in, you take your clothes off, she does that and I mean it's just so degrading and embarrassing. It's just horrible."
For some, their anxieties were linked to a fear that their bodily functions would betray them during the test and cause them to suffer shame and humiliation as a result.
But it was the conduct of the person taking the test which was deemed equally important in whether women felt positively about the experience.
'No personal touch'
Dr Natalie Armstrong, from the department of health sciences at the University of Leicester, says 14 of the women interviewed in the study said they were disappointed at how they had been treated.
"Cervical screening is treated by health professionals as a routine thing. Perhaps doctors become desensitised to it and practice nurses end up doing it quickly because of time constraints... As a result there is no time for personalising it."
Overall, women said they would prefer a more personal approach.
One woman from the study commented: "I didn't very much care for the person that did it. I found her very abrupt. I just think anybody who carries out these tests should be very aware of people's feelings and I think they should pick up on the fact that some people are more nervous than others."
The screening test involves opening the vagina using an instrument called a speculum and taking a sample of cells from the cervix.
"It transgresses all sorts of societal taboos about access to intimate body parts and nakedness," says Dr Armstrong.
Women wanted more engagement, more personalisation and tailoring on the part of the nurse, she says. They also said that emotional preparation and reassurance would help them cope better.
'Alpha male mentality'
Men are not immune from embarrassment when it comes to intimate health examinations either.
Recent research from Canada, which looked at the high and rising rates of sexually transmitted infections in young men, found that the young men they spoke to felt very vulnerable when exposing their genitals during STI testing and saw it as a potentially sexualised experience.
The study also said that participants did not feel they could talk about about sexual health issues with other men.
One male interviewee said: "It's like an alpha male mentality, right? Like, if you show any signs of weakness, then… you will be weak. And it's also, you're fine and if somebody says you're not fine, that's something to be worried about. Whereas if you ignore it [symptoms], you're still fine."
Lynn Young, primary care adviser at the Royal College of Nursing, says practice nurses who normally carry out smear tests are under time pressure.
"It would be lovely if time wasn't a constraint but because of the heavy workload in general practice, sensitivity can be compromised.
"This is a gentle reminder to doctors and nurses that they always need to think about how they react with patients."
Robert Music of Jo's Trust, a cervical cancer charity, said that although some women may find cervical screening uncomfortable, they still know it's important.
"Although it is a routine test, each patient must be treated as an individual, made to feel at ease and made aware of what's going to happen."
Targeting the young
The percentage of women attending for a smear test has fluctuated greatly over the past 20 or so years.
Figures from the hNHS Information Centre show that in England, 78.9% of women aged 25 to 64 who were eligible for screening were tested in 2009-10.
This has stayed constant over the past few years, with a peak of 85% in 1995. In 1989 only 40% of eligible women were tested.
In Scotland the current screening rate is 79% and in Wales it is 76%.
Jade Goody's untimely death from cervical cancer had an impact on the figures - there was a 12% increase to 3.6m in the number of women screened in one year - but it was short term.
Dr Armstrong says programmes like this will never receive 100% coverage.
"There will be lots of explanations why some women don't go and get the test. I wouldn't want to say that every woman should go but healthcare professionals should do everything possible to make it a good experience."
But it is younger women, aged between 25 and 29 years, who are the worst at attending. About one third do not get tested.
"It's about communicating and targeting these young people. We need more investment in campaigns of all kinds to encourage them to book in for a cervical screening," says Robert Music.
While it may make many women squirm or even cause some discomfort, health professionals are agreed that it is still an important procedure well worth doing.