Dad gave up drinking for sick daughter's hospital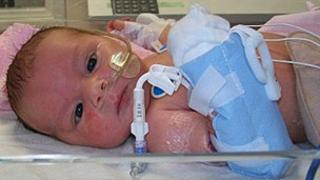 As people stock up on alcohol to celebrate the festive season, spare a thought for one father who will not be touching a drop.
Shaun O'Connor is half way through a year of abstinence - and it is all because of his daughter Evie, who is two and a half years old.
Evie was born with Hirschsprung's Disease, a rare condition which prevents the bowel relaxing to allow waste contents to be passed.
She has spent around 50 days in hospital during her short life, endured three operations and had her first surgery when she was just six days old.
In comparison, Shaun says his 'No beer for a year' campaign has been "a piece of cake".
"I almost ordered a drink by mistake the other day but then I realised.
"It's particularly hard at family occasions but I want to put something back after all the fantastic care Evie has received."
Sticky start
Shaun wants his challenge to raise money for the neo-natal surgery unit at Sheffield Children's Hospital where Evie spent many weeks being treated.
Just after she was born, there were signs that something wasn't right.
She wouldn't latch on and she didn't pass any meconium, the sticky substance passed by babies in the first few days of life.
When doctors diagnosed Hirschsprung's Disease, they tried to wash out her bowel but, when it became perforated, Evie had her first operation.
Two more operations followed before Evie was on the road to recovery.
"By 10 months old most of the diseased bowel had been taken away. During most of this time she had a colostomy, so she was pooing into a bag connected to her bowel.
"By the time she was one and a half, we were almost back to normal."
Her doctors had removed the part of the bowel affected by the disease and reconnected the healthy parts.
Although Evie is now over all the blockages and constipation caused Hirschsprung's Disease, she is still prone to other health problems because of the condition.
Chatty girl
She has recently been in hospital with a viral infection which also caused her breathing difficulties, and she had to play catch-up on things like potty training.
"Yet she is still very chatty, very sociable and brilliant with people. She is just a cheeky little girl who gets on with it," Shaun says.
It is has been much harder for her parents though.
Shaun and his wife almost had to cancel their wedding as the stress of the early operations took their toll.
But now that they are expecting their second child, a boy, the worry about the genetic condition recurring is starting to dominate their thoughts.
"We have no indication whether he could have it too. Doctors say he is unlikely to have it as badly as Evie, although it's more common in boys."
In the meantime, they are concentrating on looking after Evie and Shaun is sticking firmly to the orange juice until the summer.