Dental body's complaints backlog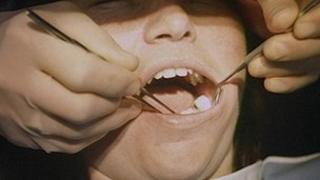 The body which investigates dangerous or incompetent dentists has been battling a backlog of serious complaints, the BBC has learned.
The problems at the General Dental Council were at their worst in 2010, when 72 serious complaints had still not been dealt with after nine months.
That compares to a total of 224 serious complaints referred during the year.
The GDC has since appointed a new chief executive, and increased the number of investigatory hearings and staff.
The council is responsible for monitoring the dental professional. But its own regulator, the Council for Healthcare Regulatory Excellence (CHRE), was asked by the government in September 2011 to report on how it is being run. The findings are expected by the end of January.
The investigation followed the resignation of its former chair, Alison Lockyer, who complained about how internal disputes between executives and other staff in the GDC were dealt with.
Patient safety
Last year the CHRE wrote two audits which were critical of how long it took to process the disciplinary cases of dentists. It highlighted problems with record-keeping, including an instance of important information recorded only on a Post-it note.
"The General Dental Council needs to refocus all its energy and attention on patient safety and the quality of dentistry," said CHRE Chief Executive Harry Cayton.
"That is its job and that is what it needs to do and it needs to put the resources, the time and the attention necessary to do that."
A total of 1,400 complaints were made to the GDC in 2010, the latest year for which figures were available.
Any spurious complaints are sifted out by case workers. If there is a serious case to answer, an investigating panel decides if it should be referred to a senior committee which has the power to strike a dentist off.
The GDC classes backlogged cases as those that have taken more than nine months to pass between the investigating committee and one of the more senior panels.
The number of backlogged cases has fallen from 72 to 51 since the appointment of a new chief executive, Evlynne Gilvarry, in October 2010.
Last year, extra people were recruited to sit on the committees which deal with fitness to practise cases and 12 extra caseworkers were taken on.
"What I was determined to do as soon as I joined the organisation was to ensure that the theoretical risk to patients - that patients might be put at risk - never manifested into a reality, said Ms Gilvarry.
"We've done that and we've put in a reform programme and 12 months on, we're in a much stronger position."
The Radio 4 Face the Facts report on complaints against dentists was broadcast on Wednesday 11 January and can be heard online at the above link.