Children under 10 in Northern Ireland treated for eating disorders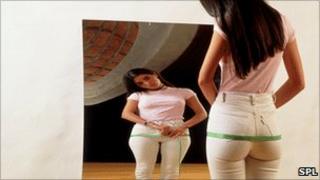 A number of children under 10 have been treated in hospitals in Northern Ireland for eating disorders.
The Department of Health has not published the exact number, but up to 12 children were hospitalised in the three years between 2007 and 2010.
Nearly 80 teenagers have received hospital treatment for conditions such as anorexia in the past five years.
It is understood up to £4m is spent each year on adults and teenagers who travel to England for treatment.
Ann McCann from the Eating Disorders Association said the organisation had dealt with a girl as young as eight, who had been bullied for being a "little bit overweight".
She said the numbers of children affected are growing - the vast majority are girls, but one in ten are boys.
"When I started this work in 1992, it would have been very rare to have had a parent phone with a child under 13. Now unfortunately, it's not unusual. This is a modern day disorder," she said.
She said children often started telling lies about not eating their lunches, eventually leading to a "starvation diet".
"We've become a real body image society. Thin is good and children pick up on this," she said.
"It seems to be the ultimate insult now for children to call each other fat. It's a word that they choose in the playground."
Ms McCann believes that services for eating disorders in Northern Ireland need to be improved, as adults often have to travel to centres in England for intensive therapy and supervised eating.
"Those could be introduced into the four specialist teams we have here in Northern Ireland," she said.
"The money that's being spent over in England, sometimes up to £3m to £4m a year on these very seriously ill people, that could be spent on developing a proper service here in each of our four area boards."
She said GPs should be trained to spot the early signs of eating disorders.
"If an eating disorder is picked up by someone with those skills and the expertise it doesn't have to lead to young people going into hospital.
"(Eating disorders) do irreparable damage physically and mentally to them; it blights the whole of their adolescence and sadly too many of them go into adulthood with this terrible illness."