Ghost patients: GPs overpaid says Audit Commission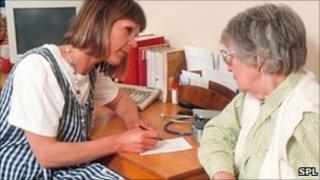 GPs have been paid for thousands of patients on their lists who have moved practice, died or been forced to leave the country, according to a report by the Audit Commission.
Their report identified more than 95,000 patients who needed removing from GP lists in England and Wales.
Deleting these records has saved £6.1m, the commission said.
But the British Medical Association warned against removing genuine patients from GPs' lists.
The National Duplicate Registration Initiative (NDRI), undertaken by the Audit Commission, looked for anomalies in patient lists across England and Wales for 2009-2010.
They compared GPs' patient lists with those of other GPs and with other lists to find "matches".
The duplications they found included almost 30,000 patients who had moved to another practice.
There were more than 32,000 who had died years before, and almost 10,000 failed asylum seekers.
Nearly 20,000 patients were also removed from lists after investigators found high numbers of people registered at the same property.
Of those patients who had died but were still on GP lists at the time of the review in 2009/10, 157 had died before 1980.
Inaccurate GP lists can mean some practices receive more than their fair share of funding, while others miss out.
When patients move to another practice, two GPs can end up being paid for one patient's care if they are not removed from an old list.
GP practices are paid £64.59 on average per year for each patient's care.
'List cleaning'
Dr Laurence Buckman, chairman of the British Medical Association's GPs committee, said it was important that lists were as accurate as they could be.
"'Ghost patients' should be routinely picked up by primary care organisations (PCOs) and removed as a matter of course.
"However, we have been concerned by reports from some areas of over-zealous list cleaning initiatives, where patients still validly registered with a practice have been removed against theirs and their GP's wishes, often without their knowledge.
"Often these are vulnerable patients - either elderly or non-English-speakers.
"It is important for PCOs and practices to work together to make sure that 'ghost patients' are correctly identified and genuine patients are not disadvantaged."
Overall, the 95,000 patients whose names had to be removed from lists represent 0.16% of the population.
The Audit Commission said in their report that the NHS and GPs generally managed patient lists well, considering the millions of records which had to be monitored.
Health Minister Lord Howe said 55 million people were registered with a GP although only 52.5 million people lived in England.
He said: "Identifying 'ghost patients' will ensure that practices are fairly funded only for the patients they are responsible for.
"The NHS needs to make the best use of the funds it has available and avoid giving GPs extra income for patients who have moved away or died."