Eldery care: Your stories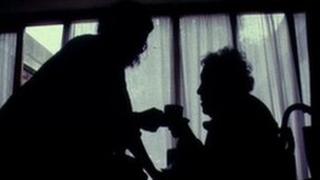 Compassion is a characteristic that all health care staff should have particularly when caring for the elderly, experts say.
The recommendation was made by theCommission on Improving Dignity in Care for Older People, to improve standards in hospitals and care homes in England.
BBC News website readers have been sharing their stories and views on compassionate care for the elderly.
Julie Watkinson, trained nurse, Wiltshire
I trained at The Middlesex Hospital from 1985 to 1988 and chose to be a nurse.
I had no idea what my salary would be - it was of no interest to me. I just knew I wanted to look after people.
I have been a ward sister, unit manager and matron in both the public and private sectors.
I have always cared for people in the way I would wish to be cared for or the way I would wish someone I love to be cared for. It's not rocket science, just basic human compassion.
Nursing is not, and never will be, an academic subject. I trained the 'old-fashioned' way spending most of my time as part of the workforce from day one interspersed with short bursts in school.
I am more than aware that there are fewer staff members caring for patients than when I first qualified but a strong leader on each ward is essential to manage those staff to their full potential.
The loss of an identifiable nurse-in-charge for patients, their relatives and even the staff means that no-one is co-ordinating the team to function at the highest level.
I have been on many wards where, far from being short-staffed, staff are sitting at the desks drinking coffee.
The professionalism has gone out of the profession and I rarely tell people today that I am a nurse as I don't want to be associated with the many horror stories that are reported.
Put the professionalism back into nursing through careful selection of students entering the profession and managing poor performance properly when it occurs.
Anne Booth, daughter of elderly patients, Kent
A lack of compassion amongst staff is part of hospital culture and staff don't seem to have the power to change things.
When my elderly father had a problem with his prostate, we went to A&E.
He was in a great deal of pain but he was 83 and from a generation that doesn't want to make a lot of fuss.
We waited a very long time before a doctor eventually came.
I was near where some staff congregated. I was annoyed that junior doctors were chatting about their weekend and not attending to my father.
I wrote a letter of complaint and received a personal apology.
There are differences in departments. Recently, my mum had her cataracts done at the same hospital.
At ophthalmics, there is obviously a permanent fixed team of surgeons and nurses who work together, know, respect and like each other and love their jobs.
It was noticeable that the one time I felt staff were less welcoming, was when there was a staff shortage.
Sara, former care home owner, London
For nearly 15 years in the 80s and 90s my husband and I ran a small care home of 10 residents for the elderly.
It never ceases to amaze me that people have to be taught how to care for other human beings.
What is needed is ordinary day-to-day compassion, such as you would give to your own parents or grandparents.
When I hired staff I always favoured older women who had raised a family and who addressed our residents by name and engaged them in normal conversation.
I would take potential staff around the home and introduce them to the residents and note how they dealt with the introduction: Were they interested in the residents? Did they address residents properly?
Being kind and caring are qualities that were far more important to me than academic qualifications.
It is a simple matter of liking other human beings - those who do not like people should never be accepted into any of the caring professions, no matter how well-qualified they may appear academically.
The Reverend Neville Barnett, hospital chaplain, East Sussex
I was asked by the hospital matron to lead a group of staff to help them develop spirituality by showing their compassion when they treat patients.
We followed the ideas in the Royal College of Nursing booklet, Spirituality in Nursing Care.
We put this group on every month, but it depends on the availablity of staff. In December nobody turned up to the session because they were too stretched.
But there are times when staff turn up in their free time.
There have been signs that the training has made a difference in the quality of care being offered to older people.
It's about making staff more aware of non-clinical needs at a holistic level.
For example, a member of staff saw that a relative of a patient who had died needed to talk about her loss and so the patient's relative was referred to me.
Nursing staff try to do their best, but I think there should be a move in the NHS from patient-centred care to person-centred care.
Nurses have always been caring. They have been trained academically but trying to encourage them to embrace the holistic side is not easy.