NHS reform and pension battles 'hitting patients'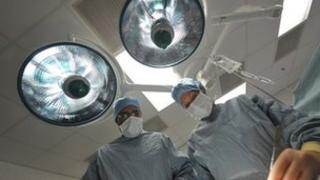 The controversy over NHS reform and pension changes is diverting hospital doctors away from improving patient care, a union leader says.
Dr Mark Porter, chairman of the British Medical Association's consultants committee, said the NHS overhaul in England was "unintelligible red-tape".
He added a "belligerent and obstinate" government had forced medics into a ballot on action over pensions.
He also repeated the BMA's demands for the health bill to be scrapped.
Dr Porter's criticism, in a speech at the BMA's consultants conference in London, comes the day after opposition efforts to rein in the health bill were defeated in the House of Lords.
'Tragedy'
Peers voted down amendments designed to restrict the role of regulator Monitor and protect the NHS from European competition law.
It means the government is still on track to get its legislation through Parliament by the Queen's speech in May.
Dr Porter said: "Consultants have been pushed into conflict by a belligerent and obstinate government, when we would far rather be planning improvements in clinical services.
"The tragedy is that doctors' time and effort is being increasingly diverted away from seeking to improve patient care.
"The government has opened battle with doctors."
On pensions, Dr Porter said consultants felt "outraged" and "incensed" about the broken agreement over pensions.
But he stressed the BMA had ruled out strike action as doctors did not want to harm patient care.
Health minister Simon Burns said: "The health bill will hand power to GPs, put patients at the heart of the NHS, and reduce needless bureaucracy.
"Of course, every important reform to the NHS, under whatever government, has had its critics from within the system.
"But the BMA are scaremongering from the sidelines while doctors on the front line are getting on improving care for patients."