Do health social enterprises deliver on the ground?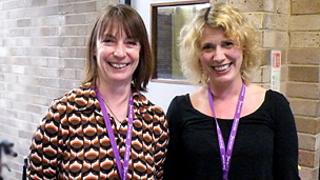 With a lot of talk among politicians about the potential benefits of social enterprises, what does the reality feel like for care workers who move from the public to private sector - and can this new model deliver everything that it promises?
On a bright, sunny morning last October, local health and social-care staff held a series of parties around Bath to mark the launch of Sirona - and their departure from the public sector.
Sirona is one of a new breed of "social enterprises", much beloved by politicians who see them as a way of getting private-sector efficiencies while keeping the public-sector ethos.
And with a new law forcing public bodies to consider "social value" when handing out contracts - plus more contracting out - we are all likely to see far more social enterprises delivering our public services.
But do they really deliver everything that is promised?
And what is it like for the staff who are moved - sometimes against their will - out of the NHS or the local council?
Over the past eight months, I have been given inside access to the birth of Sirona, as it split off from the local NHS and the local council in Bath and North East Somerset.
With 41 separate business units, it has taken on responsibility for a wide range of health and social care responsibilities in local communities.
These include health visits and district nurses, specialist support in areas such as physiotherapy and community paediatrics, as well as adult social care and support for those with learning and other disabilities.
Mixed feelings
"I've kind of gone through a mourning process," Christine Hurley, one member of staff, told me when I met her last August.
"You go through that period of thinking 'Oh, my God, I'm going to leave this organisation that I've been part of for so many years'."
Many members of staff felt the same way.
But, like Christine, many also felt optimistic about the opportunities offered by social enterprise.
The complex-health-needs team, which deals with patients with disabilities or life-limiting conditions, had a whole list of plans and new initiatives they hoped to make progress on - as well as scrapping unnecessary duplication of processes, and a room of paper records.
But not everyone felt that positive things balanced the bad.
Some, like Unison branch chairman Richard Gurney, just felt the loss.
"I'm proud to be a public servant," he said. "I think we've been responsive in the service that we do and I think, most importantly, because it's in the council and we're controlled by politicians, we're accountable."
'Ahead of schedule'
Six months after Sirona was founded, some improvements are clearly visible.
The social enterprise is on track financially - saving money for the council and the NHS, who now buy services from it rather than deliver it themselves.
In fact, it is slightly ahead of schedule, making slightly more profit - they call it surplus - than planned, all of which can be reinvested back in new services.
Progress on their ideas for improved services is ahead of schedule, as is a move to electronic record-keeping. And when I ask Debbie Patten, the team manager, about her room of paper, the answer is positive.
"Well, I've ditched my room of paper," she reveals. "It's still there, until everything can get scanned onto the electronic system then we need to keep those records, but we're no longer printing off paper copies of everything.
"That's made a huge difference to everybody's lives."
Christine Hurley is also pleased, feeling that staff are now closer to where decisions are taken. She hopes they can now challenge suppliers to get things like IT systems right, another common frustration in the public sector.
"We shut up and put up with a lot of things," she admits, "and I think we've got a bit more of a say - 'Well, hang on, that's not quite right, that's not what we need.'"
Unclear future
Richard Gurney is not so positive.
He is passionate about providing a good service and is worried that if his members' terms and conditions are reduced, the service in turn might suffer.
"We have a duty to talk about the service we provide because it's our members - that's the service, and not the senior managers," he argues.
So six months after the creation of the social enterprise, Sirona's future is still unclear.
Financially, they are on track and many members of staff have seen the kind of changes they hoped for.
Janet Rowse, the chief executive, says she is making headway in defining and assessing the wider social benefits of being a social enterprise.
Finances are only part of the picture, she explains.
"The other bit will be how are we sitting in our community, what difference are we making and how do people experience that?"
But how measurable is this? Will the early efficiency gains prove sustainable, particularly with an ageing population and a shrinking budget?
And what about when contracts come up for renewal - will Sirona be able to keep or even expand its business?
More clear is that the changes in Bath are likely to spread across the country.
New laws, a differently shaped NHS and a government push for more social enterprises all mean that something like Sirona could be coming to you, too.
Building The Big Societywill be broadcast on Wednesday 14 March at 11:00 GMT on BBC Radio 4.