Wrong diagnosis from syphilis kit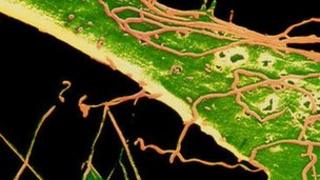 About 75 people in the UK have been incorrectly diagnosed with syphilis, say public health officials.
Some patients were told they had the infection when they did not; while others were given an early diagnosis when it was advanced, said the Health Protection Agency (HPA).
Clinics will contact patients who received an incorrect diagnosis in the coming weeks, it said.
All were diagnosed between November 2010 and September 2011.
The HPA said the problem was caused by false positives from a commercial test kit, which is no longer on the market.
The kits were used at eight UK laboratories, including three in Scotland and one in Wales.
About 5,000 syphilis cases are diagnosed each year in the UK.
Prof Cathy Ison, director of the Sexually Transmitted Bacterial Reference Laboratory at the HPA, said laboratories that used the test were taking every step to ensure those affected were informed.
She added: "With the help of laboratories and sexual health doctors across the country, we have been investigating which patients received an incorrect diagnosis and we are now in the process of working with doctors to ensure that anyone affected is informed of their correct diagnosis and given further treatment if necessary.
"Anyone incorrectly diagnosed with syphilis when they did not have the infection will have been prescribed a limited course of antibiotic treatment. This will not have had any lasting impact on their health.
"Anyone diagnosed with early stage syphilis when they actually had late stage disease may require additional antibiotics to completely clear the infection and prevent any complications. However, as patients with late stage syphilis are not usually infectious, it is very unlikely that they could have passed the infection on to anyone else.
"We would like to reassure the public that anyone who received an incorrect diagnosis will be contacted by their clinic within the coming weeks."