Progress on food industry health deal 'slow'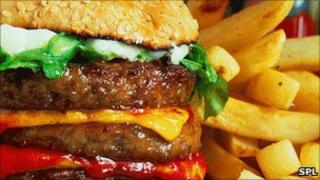 There has been "inadequate" progress in getting the food industry to adopt healthier practices, campaigners say.
An investigation by the consumer group Which? found many of the major firms had not signed up to the government's responsibility deal.
The voluntary initiative was launched a year ago to encourage moves such as reducing salt and trans-fats in food, and improving information.
But the criticisms have been rejected by ministers and the industry.
Nonetheless, they mark another blow to the credibility of the partnership.
When it was launched in March 2011, a host of health groups, including the British Medical Association and Diabetes UK, refused to sign up, saying the government was not being tough enough with the industry.
'Vague promises'
Twelve months on, Which? has analysed what progress had been made on some of the key pledges.
It found only two of the top 10 restaurant and pub groups had agreed to provide calorie information, with the likes of Pizza Express, Garfunkels and Cafe Rouge among those not involved.
Which? acknowledged the fast food outlets had done better - McDonald's, KFC and Pizza Hut are all on board.
Of the top five coffee shops, just Starbucks and Marks and Spencer's The Cafe had signed up.
Meanwhile, big name brands such as Iceland, Findus and Birds Eye had yet to commit to reducing salt in their food.
Smaller takeaways and carters were still using trans-fats as well, Which? said.
The group has called on ministers to put more pressure on the industry, including setting a deadline for legislation if more progress was not made in some areas.
Which? executive director Richard Lloyd said: "The current approach is overly reliant on vague voluntary promises by the food industry.
"This has so far failed to bring about change on anything like the scale needed."
Shadow public health minister Diane Abbott said: "I agree with Which? This government has prioritised big business over British families."
'Good progress'
But Health Secretary Andrew Lansley said the voluntary approach was making progress.
He pointed out the number of organisations involved had more than doubled to top 370 since the start.
He said this meant 70% of fast food and takeaway meals would have calorie labelling and all the major supermarket chains had committed to removing artificial trans-fats and promoting alcohol unit awareness in their stores.
Mr Lansley added: "The responsibility deal has delivered far more action more quickly than before, and more than could have been achieved through regulation in that time.
"We know this is an ambitious challenge but our successes so far clearly demonstrate it works. We will work hard to work with even more businesses, sign them up to more pledges and get bigger results."
British Retail Consortium food director Andrew Opie said: "There's a lot to be proud of. Tackling public health is a long-term issue and there's now a solid foundation for future work. It's a shame a consumer group like Which? isn't doing more to acknowledge that."