Whooping cough baby deaths' link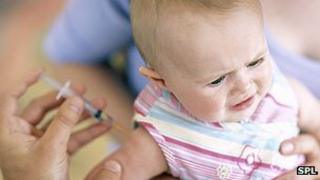 Three babies have died from whooping-cough complications in England and Wales this year, health experts say.
The Health Protection Agency (HPA) says there have been 665 lab-confirmed cases, 65 of which were in babies under three months.
This is before infants are fully vaccinated.
The HPA said anyone infected should get prompt treatment to prevent others - especially young babies who are at greatest risk - being infected.
Surges in the number of whooping-cough cases are seen every three to four years.
This one began last year - when there were 1,040 cases altogether, up from 421 in 2010.
Easily spread
Deaths from the infection in young babies happen every year - there were seven in 2008, two in 2009 and 1 in 2010.
The main symptoms of whooping cough are severe coughing fits which, in babies and children, are accompanied by the "whoop" sound as the child gasps for breath after coughing.
It is easily spread between people in close contact.
Whooping cough can be treated with a course of antibiotics to prevent the infection spreading further, but young infants may need hospital care due to the risk of severe complications.
Cases are being seen across England, with clusters often occurring around schools, universities and healthcare settings.
Babies are vaccinated at the ages of two, three and four months - and only after all three do they have full protection.
Since November 2001, children in the UK have been routinely offered a pre-school booster between the ages of three and five.
The HPA says uptake of the vaccine is "good".
But it added that while whooping cough was circulating, infected people must act to protect others - especially young babies.
Earliest opportunity
Dr Mary Ramsay, the HPA's head of immunisation, said: "Whooping cough can be a very unpleasant infection.
"Anyone showing signs and symptoms - which include severe coughing fits accompanied by the characteristic 'whoop' sound in young children, but as a prolonged cough in older children and adults - should visit their GP.
"Whooping cough can spread easily to close contacts such as household members.
Vaccination is the most effective way to protect people. Parents should ensure their children are up to date with their vaccinations so that they are protected at the earliest opportunity."
She added: "The pre-school booster is also important, not only to boost protection in that child but also to reduce the risk of them passing the infection on to vulnerable babies, as those under four months cannot be fully protected by the vaccine.
"The HPA has written to GPs to remind them of the signs and symptoms of this infection and stress the importance of vaccination. The agency is also encouraging GPs to report cases quickly and to make them aware of the HPA's guidance to help reduce the spread of the infection."
Professor Warren Lenney, a spokesman for the British Lung Foundation said: "It is really important that parents are not afraid to get their children immunised against whooping cough.
"Sometimes in the past there have been periods where uptake of various immunisations has been low, and the result has been a rise in the associated infectious diseases."