Blood clot care risking lives, NICE says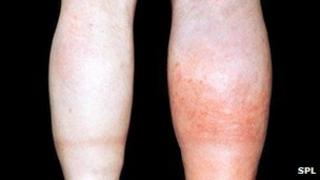 Many lives could be saved if hospitals diagnosed and treated blood clots in the legs and lungs more quickly, the healthcare watchdog says.
The National Institute for Health and Clinical Excellence says some hospitals are testing for blood clots too late, risking long-term health problems and endangering lives.
It says treatment is also very patchy.
NICE is urging hospitals in England and Wales to offer tests within 24 hours of identifying possible symptoms.
Blood clots in the legs or lungs are a significant problem, affecting more than 56,000 people in England last year. The true numbers may be even higher, because experts believe many cases go undiagnosed.
Clots in the leg can cause long-term pain, severe swelling and even disability.
If they dislodge and travel to the lungs, they can be fatal: clots were recorded as being a factor in 17,000 deaths in England and Wales in 2007.
Extra checks
NICE says diagnosis and treatment of the condition, know as VTE or Venous Thromboembolism, varies significantly across the country.
Hospital patients are particularly susceptible, because they are in bed and not moving around.
Hospitals in England are already obliged to check all patients for the risk of developing blood clots.
Now the watchdog wants all hospitals to offer blood tests and an ultrasound scan within 24 hours of a patient reporting symptoms.
In an ideal world, it would like to see the tests carried out within four hours.
Hospitals are also being urged to test everyone over 40 who gets a clot in the leg or lungs to see if they have cancer.
The problem can be a side-effect of cancer, and testing could help identify people in the early stages of the condition, before it has been diagnosed.
Professor Gerard Stansby, chairman of the guideline development group, said: "The NHS should be offering a seven-day-a-week service.
"It's not acceptable any more for people to have to wait over the weekend to get these tests in hospital."
'Major advance'
NICE said patients with blood clots in the leg should be given blood-thinning medication when appropriate, and told to wear compression stockings for at least two years.
The advice has been welcomed by the thrombosis charity Lifeblood, which helped develop the guideline.
"This is a major advance in improving the quality of care patients receive," said the charity's Medical Director, Beverley Hunt.
"It sets a clear standard of care."