Premier League health project shows promising results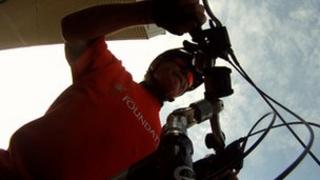 Big name football clubs could hold the key to improving men's health, according to research seen exclusively by the BBC.
The largest study into the health of working men ever carried out in Britain, looked at over 4,000 men who took part in health and fitness programmes run by Premier League Clubs.
At the start of the programme, many men were overweight, drank too much, had a poor diet and were not doing enough exercise.
But three years later researchers found that many men had made a significant improvement to their lifestyles.
Liverpool FC is one of many clubs who have been running health projects for men.
Few people know their way around the club's Anfield home as well as tour guide Alan Herr.
He's a slim, fit-looking man, bubbling over with enthusiasm.
But just three years ago Alan weighed 20st (127kg) and experienced a heart attack that almost cost him his life.
"Having a massive heart attack at the age of 40, you know something is not right," he says.
"And then of course you want to do something about it, you've got to do something about it - because if you don't, then obviously the next step is you could be six-feet-under."
Hard to reach
Dave Horsfield from Liverpool Primary Care Trust (PCT), which is working with Liverpool FC on men's health projects, says men are particularly bad at doing something about improving their health.
"We have a great way of ignoring the signs and symptoms. we don't want to go to the doctor, we don't want to get the bad news I guess.
"In not doing that we leave it too late and all of a sudden, rather than being able to change our lifestyle, we actually need a medical intervention.
"That's really what we want to avoid. We want people to lead long healthy lives without the need for clinicians to get involved, or at least stave that of as long as possible."
There's a high price attached to poor lifestyle choices.
According NHS figures, obesity in England is thought to cost the economy around £16bn.
The harm caused by alcohol abuse is estimated at around £21bn.
Men die earlier than women - and the poorer you are, the lower your life expectancy.
Premier League health
So three years ago, the football Premier League launched a programme to improve the state of men's health in England - attempting to change the behaviour of around 10,000 men when it comes to food, drink and exercise.
And Liverpool was one of the clubs to get involved.
A weekly cycling group is one example of a scheme supported by the club.
They have regular sessions with health trainers - but it is fun and exclusively male.
Some of the Liverpool fans who got involved hadn't cycled in years - but now they're feeling the benefit.
One of the riders, Stafford Huxley, said: "I suffer very badly with arthritis, I can hardly walk at times but I can ride my bike. I've lost a stone in weight."
Positive change
And these sort of results are not uncommon, according to Prof Alan White of Leeds Metropolitan University.
The BBC has been given exclusive access to the results of his analysis of the Premier League project.
He found seven out of 10 men made a positive change to their behaviour; one in three improved their diet - and 40% were more active.
But Alan White says, while this project showed that progress can be made, much more needs to be done to address the poor state of men's health.
"We have a moral responsibility, as well as an economic responsibility," he says.
"These are the workforce, these are the people who really should be out there being good employees, they should be good fathers, they should be good partners and their health is showing that's just not happening."
But it seems there is something about football clubs - deeply embedded in their communities, passionately followed by supporters - that means they are better able to get across messages on healthy lifestyles.
The power of the badge
Mark Haig is from the Liverpool Football Club Foundation.
He says: ""It's more around the power of the football badge.
"Men traditionally don't look after their health, traditionally they don't go to their GP, certainly in this area that's true.
"But we do know with the LFC badge we can attract men to come and engage in activities and in doing so we can get some really important health messages out to them."
The influential health think tank the King's Fund has already pointed out that new approaches are needed when it comes to delivering health messages to hard to reach groups.
The Premier League thinks that for men, it may have the answer.