The changing NHS
26 September 2012

From the section

Health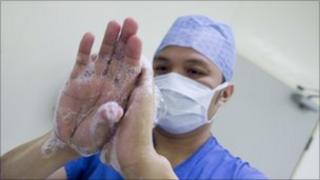 The NHS is arguably facing its most challenging period since it was created in 1948.
While much of the focus has been on the government's reforms in England, there are a host of other factors that make the coming years crucial.
Demands are rising, as are costs. And this is all happening at a time when money is tighter than ever.
How the NHS responds to these will determine what sort of health service the UK has for the next decade and beyond.
But what are the obstacles and how is the NHS responding?
The ageing population
One of the great success stories of the past century has been the almost continuous rise in life expectancy. Since the NHS was set up life spans have increased by a dozen years for both men and women - and this trend is predicted to continue.
But the rise in the grey population brings with it challenges. The growing number of elderly people means more patients with multiple conditions - some of which, such as dementia, present significant difficulties in providing care and support.
Two thirds of hospital beds are now estimated to be occupied by the over 65s at any one time.
One of the solutions being pushed is to move more care out of hospitals, where it tends to be more expensive, into the community where services can be designed around the needs of patients.
This involves hospital consultants running clinics outside of hospitals and GPs getting more involved in care traditionally done in hospitals. Examples of the latter include things such as minor surgery and diabetes clinics that are becoming increasingly common in GP surgeries.
Nurses have also taken on more responsibility.
But this is having a knock-on effect. Moving patients out of hospital hits their income. The number of hospitals running up debts is on the rise.
In fact, during the summer the government made the unprecendent move of putting one hospital trust - South London Healthcare - into administration after it had run up a £65m deficit. It could lead to the trust being broken up and services closed.
The changing environment is also gradually seeing a move towards the centralisation of specialist care on fewer sites. This often proves controversial with local people objecting to the closure of services, such as A&E and maternity units.
Medical advancements
Changes in what can and cannot be done have revolutionised health care in the last half century, but these have come at a cost.
People are now surviving cancer, strokes and heart attacks in ever growing numbers - although many are left with disabilities that require careful care and support.
Meanwhile, IVF treatment is helping thousands of couples conceive each year.
Organ transplants - impossible until the 1960s - are now saving over 3,000 lives a year, while hip and knee replacements are now considered routine treatments for the middle-aged and elderly.
The Blair government responded to the revolution in medicine by setting up an independent body, NICE, to ration what could and could not be afforded.
It has seen a host of treatments not being approved for NHS - despite protests from patients groups.
Nonetheless, paying for progress in medical technology costs the NHS an extra £10bn a year, according to estimates.
Lifestyle factors
In short, obesity, drinking and smoking. All three cause disease and death, adding billions of pounds to the NHS bill.
And while smoking rates have fallen in recent years, the burden from obesity and drinking is on the rise.
One in four adults are obese - a figure predicted to double in the next 40 years - helping drive up rates of heart disease, diabetes and cancer. Obesity is currently estimated to cost the NHS over £4bn a year.
The bill for dealing with drunkenness and alcohol abuse, which causes problems such as liver disease, is nearly £3bn a year, while the toll from smoking is slightly more despite the progress made in driving down the rates of smoking.
There has been a sustained push to encourage people to live healthier lives for some years. The government is working with industry on a variety of schemes, which is seeing clearer labelling on food and drinks and reduced levels of salt, sugar and trans-fats.
Meanwhile, from next year councils will take on responsibility for public health programmes in the belief they are better placed to use their influence over schools, planning, green spaces and leisure amenities to get people to become healthier.
Money, money, money
When the coalition came to power, they said they would protect the NHS budget. They did, but only just. Funding in England is rising by 0.1% a year during this parliament. The situation is little better elsewhere in the UK.
That is the longest period of flat growth in the history of the NHS and for a service that is used to average rises of about 4% a year it feels much more like a cut.
To cope with that - and the rising costs associated with the ageing population, lifestyle factors and medical advancements - the health service in England has been asked to save £20bn by 2015 - the equivalent of a 5% increase in productivity for a sector that has been getting less productive during the last decade.
Ministers remain confident this can be done without harming the frontline, but unions and campaigners say the savings push is beginning to bite.
Latest workforce figures show nurse numbers are going down, while there are reports of trusts rationing services.
The reforms
The overhaul in the NHS in England has been one of the most controversial reforms this government has pursued.
NHS chief executive Sir David Nicholson described them as so big that they could be seen "from space".
When they were announced two years ago they prompted outrage from campaigners, unions and professional bodies.
It led to an unprecedented pause in the parliamentary process so the government could try to get the objectors on side.
In the end the bill underpinning the changes was pushed through and they will kick in from next April, although the architect of the reforms, Andrew Lansley, has since lost his job as health secretary.
Some say the changes, which are seeing GP-led groups, called clinical commissiong groups (CCGs), take charge of the NHS budget and two tiers of management in the health service scrapped, are unnecessary at a time when the health service is facing so many challenges.
Others fear it will usher in a greater use of the private sector and, potentially, a break-up of the NHS.
Ministers disagree, arguing the changes will actually help the service meet the challenges it is facing.