South London Healthcare 'should be dissolved'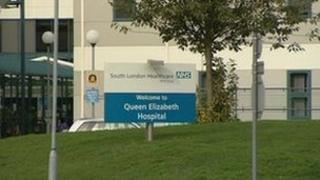 A financially-troubled NHS trust should be broken up, leading to a radical overhaul in services across south east London, an administrator says.
The trust - South London Healthcare - was put into administration in July after being declared bust.
It is the first time such measures have been taken in the NHS.
The move, if agreed by ministers, would lead to the reorganisation of A&E, maternity and non-emergency surgery across seven hospitals.
Private providers would get the opportunity to bid to run some of those services - and possibly a whole hospital.
The special administrator - Department of Health official Matthew Kershaw - said without radical change the services would become unsafe in the future.
Write off debts
South London Healthcare, which incorporates the Princess Royal Hospital in Orpington, Queen Mary's in Sidcup and the Queen Elizabeth in Woolwich, has run up debts of more than £150m since being created in 2009 by the merger of the three. These are predicted to rise to £240m by 2016.
Some of the debt that has been built up on a turnover of £424m a year is related to the private finance initiative which was used for buildings at Woolwich and Orpington.
As well as struggling financially, the trust historically had some of the longest waiting times for operations and longer-than-average waits in A&E. However, this is improving and the trust does have low infection and death rates.
Mr Kershaw has made a series of recommendations, which will now be put out to consultation until December before a final report is drawn up for the health secretary to examine.
Central to them is the dissolution of South London Healthcare and the writing off of its debts, which could then pave the way for key services to be run by other organisations. But the effect of this means services in other trusts would be affected.
The recommendations include:
Queen Mary's losing in-patient surgery, which means it would no longer carry out operations such as knee and hip replacements and in effect become a community health centre. It is recommended it is renamed Bexley Health Campus and brought under the management of the Oxleas NHS Trust, which specialises in mental health and community care. Underused buildings could then be sold off to free up money.
Princess Royal to be taken over by the bigger King's College NHS Trust, although an alternative option that may be considered is running a procurement process that would allow other NHS trusts and independent sector providers to bid to run it.
The Queen Elizabeth merging with Lewisham NHS Trust to create a new organisation. Lewisham's A&E unit would then be downgraded to an urgent care centre, meaning emergency cases would be seen at nearby hospitals. The maternity unit at Lewisham could also be slimmed down, meaning complex cases would be dealt with elsewhere.
The organisations which take responsibility for Queen Elizabeth's and the Princess Royal should get yearly bailouts from the Department of Health to cover the costs of making PFI repayments.
Mr Kershaw said: "Without radical intervention now, the situation has no prospect of turning itself around."
Taxpayers
Health Secretary Jeremy Hunt said it was essential that services in south east London were put on a sustainable footing as the continual amassing of debts meant that "vital resources were being diverted from other parts of the NHS".
"In making my final decision next year my objective will be to ensure that services are delivered more efficiently and to a high standard for the people of south east London. Patients and taxpayers deserve this," he added.
The decision to put the trust into administration - a measure made possible by legislation Labour introduced in 2009 - is being closely monitored within the NHS because it provides a blueprint for what could happen elsewhere.
An increasing number of hospitals are racking up debts during an era when money is tight and more and more services are being moved out into the community.
Experts believe the current network of hospitals is unsustainable.
There are another 20 hospitals that are in financial trouble - about a tenth of the network - although none has amassed debts on the scale of South London Healthcare.
Anna Dixon, director of policy at the King's Fund think tank, said it was good that tough action was being taken.
"While the recommendations will undoubtedly be controversial and tough to implement, radical redesign of health services is needed in many parts of the country."