Lloyds TSB credit card compensation for PIP women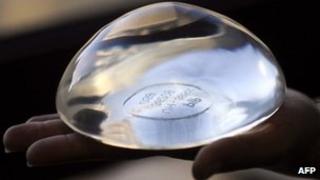 Women who paid for faulty PIP breast implants on Lloyds TSB credit cards are to receive "full, proper compensation".
Lawyers representing 600 women say they have reached an agreement with Lloyds TSB but are still negotiating with 23 other card issuers.
They are also planning to bring a case against the company that awarded the silicone implants their CE safety mark.
In December 2011 it emerged the implants contained substandard material and could rupture.
The solicitor bringing group litigation against the credit card companies, Richard Langton, told BBC Radio 4's You and Yours programme: "Lloyds TSB said they wanted to cut through expensive lawyers' fees and argument.
"They saw that the claims were perfectly valid and have asked us to set up a scheme where they will get full, proper compensation".
Under section 75 of the Consumer Credit Act, anyone who paid for goods and services on a credit card is covered for a refund and personal injury compensation.
Mr Langton said: "A woman is entitled to compensation as if they were making the claim against the clinic.
"That's not just the cost of surgery but personal injury damages which in some cases could be £10,000 or even more."
Mr Langton was scathing about the response from some other credit-card issuers, saying they had come up with various excuses for not paying out.
The trade body the UK Cards Association said it was "currently engaged with our members to determine the most appropriate course of action for protecting customers raising claims in relation to the sale of PIP implants".
"Our aim is to work towards a simplified industry-wide claims route for all customers affected, with a view to ensuring that they have effective and speedy redress," it added.
In a separate development, solicitors are considering bringing a case against TUV Rheinland, the German company that awarded the implants, made by French company Poly Implant Prothese (PIP), their safety mark.
Mr Langton said: "We are looking at potential failings of the regulator, but it is complex suing a German company on behalf of British women."
TUV Rheinland said it did not comment on possible PIP implant litigation.