New legal challenge over child heart surgery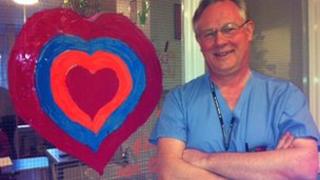 It had seemed last summer that the vexed question of how to reorganise heart surgery for very sick children in England and Wales had finally been resolved.
After considering concerns about sub-standard care which dated back to the Bristol heart scandal in the 1990s, an NHS committee representing Primary Care Trusts concluded the number of hospitals doing operations should be reduced from 10 to seven.
But the matter has not yet been fully concluded. A review by the Independent Reconfiguration Panel (IRP) will report to the health secretary next month.
And campaigners from one of the hospitals affected are taking their case to the High Court today.
Surgery at the 19-bed children's cardiac ward at Leeds General Infirmary could end next year.
Patients will travel further - to Newcastle or Liverpool - but the argument is they will have safer operations, because expertise becomes more concentrated.
This principle is widely backed by the medical royal colleges.
The doctors in Leeds though are proud that their services for children and women delivering babies with heart problems are already on one site.
Dr Mark Darowski, a consultant in paediatric intensive care in Leeds, organised a letter of protest to the IRP.
He said: "It's been said there is widespread clinical support for these changes. I wanted to show the IRP that that wasn't the case in Yorkshire.
"I drafted a letter saying the plans represented an unacceptable degradation in the level of service to the children here. About 170 clinicians from around Yorkshire signed it in four days.
"This is supposed to be about saving children's lives. But the very fact of reconfiguration may well cost children's lives. I think that's a universal view among the clinicians working here."
The senior doctors who worked on the plans strongly deny any suggestion that longer transfers come with extra risk.
They say Yorkshire already has an excellent service for safely transporting sick children long distances.
The NHS committee behind the plans (JCPCT) says it will robustly defend the Leeds court case.
A previous challenge by the Royal Brompton Hospital in London failed, with three Court of Appeal judges ruling that "the consultation process cannot be said to be unfair".
Behind the scenes there is frustration that it can prove lengthy - and costly to the public purse - to drive change to hospital services.
'Massive effect'
Prof Martin Elliott, one of the JCPCT's medical advisors, said: "Reconfiguration is always controversial. It says a lot for any centre when its patients are loyal to it.
"But we're not talking about now and the experience people have had. We're talking about the future, and what experiences children in the future should have.
"Already the mortality results are good - but what next? Death rates aren't the measure we'll be using for the next generation - there'll be other more sensitive measures.
"Then people will very clearly see the benefits of large teams and better intensive care.
"When we started this process, we said to all the people involved: 'You realise that one or two of you may lose your centre, or have it changed - are you up for that? - because excellent care in the future means a smaller number of centres.'
"These decisions have been made with an immense amount of thought and external consideration.
"So it's really disappointing that we're now in a position where an original commitment that everyone made to the sensible conclusion of fewer units has been challenged so heavily.
"We're already a year behind - and potentially there could be more delay. The effect of that is massive.
"You lose morale among staff and there's a risk of a talent drain. The patients and families suffer uncertainty about the future.
"To allow mediocrity to survive into the next generation would be a great abrogation of our responsibility."
Feelings 'running high'
Questions have been raised about whether the Leeds campaign could meet the legal costs if its case fails.
Sharon Cheng is director of the Children's Heart Surgery Fund and company secretary of Save Our Surgery, which is raising £200,000 for the court case.
She said: "I think we have a different set of arguments to the Royal Brompton case. Feelings are running high, but we feel our campaign has been based on logic.
"This review has been hanging around for 10 years now but we think it's the wrong decision."
Three-year-old Lyall now has a speaking valve to give him a voice.
He had major heart surgery at Leeds after birth and he will need another operation at some stage.
His mother, Steph Ward, and her father, Bob Ward, are among the campaigners backing the judicial review challenging the decision-making process.
Bob Ward said: "You have to look at the greatest good for the greatest number of people, but that's not what has been done.
"If you're going to reduce the number of units, you have to make sure those seven units are in the location where the greatest number of patients are - but that hasn't happened."
The JCPCT says it took careful account of population figures - but the quality of services was the most important factor to the public.
In the meantime, something of a turf war has developed, with people in Leeds angry that children's heart surgery in Newcastle is set to continue and become more dominant.
Allegations have surfaced that the tensions are beginning to affect care.
The court hearing is due to last two days.