Stafford Hospital: Robert Francis QC to meet families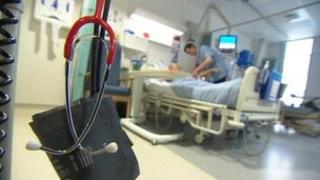 The author of a damning report on failings at Stafford Hospital is due to hold private meetings later with relatives of some of those who died.
It comes after Robert Francis QC highlighted "appalling and unnecessary suffering" there that led to hundreds of deaths between 2005 and 2008.
Five other hospitals in England are to be investigated following the inquiry.
Relatives of those who suffered in the Stafford care failings have called for resignations at the top of the NHS.
Mr Francis chaired a public inquiry last year and also chaired an independent inquiry in 2009 and 2010, after which he had concluded that patients were "routinely neglected" while the trust was preoccupied with cost-cutting and targets.
Patients at Stafford Hospital were left for hours sitting in their own faeces, food and drink was left out of reach, and hygiene was so poor that relatives had to clean toilets themselves.
Wednesday's long-awaited report into failings at the hospital produced 290 recommendations aimed at "fundamental change" to prevent the public losing confidence in the health service.
Mr Francis said events at the hospital had led to hundreds of people suffering and "betrayed" the public's trust in the NHS.
NHS chief executive Sir David Nicholson, who was briefly in charge of the Regional Health Authority while death rates were high at Stafford Hospital, and Royal College of Nursing chief executive Peter Carter have faced calls to step down.
Julie Bailey - who set up campaign group Cure The NHS after her mother, Bella Bailey, 86, died at Stafford Hospital hospital in 2007 - said: "We want resignations, we are going nowhere."
And James Duff, whose wife, Doreen, died in the hospital, said it had been a "disaster" but "nobody is accountable".
"Not one person has lost their job over this - instead they have been promoted and some people have been moved sideways," he said.
Sir David said it was "perfectly understandable" that some were calling for his resignation.
He said: "I understand the anger that they feel, the upset that they feel about the treatment of their loved ones in Mid-Staffordshire hospital.
"I absolutely understand all of that. At the time I apologised and in a sense I apologise again to the people of Stafford for what happened, but apologies are not enough.
"We need action, we need to make things happen."
There has also been criticism of professional bodies as no one lost their job or was struck off. The hospital's director of nursing at the time Dr Helen Moss was cleared by her professional regulator the Nursing and Midwifery Council (NMC) which said she had "no case to answer".
The chief executive of the NMC, Jackie Smith, said she could not comment on Dr Moss's case, but: "As a result of what happened at Mid Staffordshire we are looking at 41 individual nurses, there are 10 nurses who will be coming to a public hearing in the next couple of months."
Prosecution
Mr Francis, in his report, recommended that units that failed to adhere to basic standards of care should be prevented from providing services, and if those failings had led to death or serious harm to patients legal sanctions were appropriate.
NHS staff should also face prosecution if they hid information about poor care and should be compelled to be open with patients about mistakes.
He also recommended:
The merger of the regulation of care into one body - two are currently involved
Senior managers to be given a code of conduct and they should face disqualification if they are not fit to hold such positions
An increased focus on compassion in the recruitment, training and education of nurses, including an aptitude test for new recruits and regular checks of competence as is being rolled out for doctors
Mr Francis said failings went right to the top of the health service, saying the Department of Health was too "remote" and focused on "counter-productive" reorganisations.
In response to the inquiry, Prime Minister David Cameron apologised for the "truly dreadful" mistreatment and neglect, and announced that five other hospitals with persistently high death rates would be investigated.
All the hospitals named have had high rates for two years.
They are Colchester Hospital University NHS Foundation Trust, Tameside Hospital NHS Foundation Trust, Blackpool Teaching Hospitals NHS Foundation Trust, Basildon and Thurrock University Hospitals NHS Foundation Trust and East Lancashire Hospitals NHS Trust.
The figures for the five hospitals were already known about within the NHS and were being monitored
However, the intervention has been ordered amid mounting concern about levels of care.