Many nurses 'feel discouraged' from raising care concerns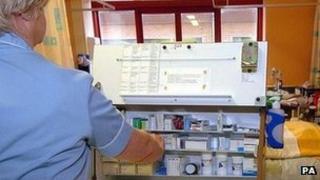 Many nurses believe the NHS has a culture that discourages staff from raising concerns about patient care, a survey suggests.
Almost 30% of 800 nurses in the UK polled by Nursing Times magazine said being seen as a troublemaker was the biggest barrier to them speaking out.
Inaction by managers was cited as a barrier by 23%.
The government said it had taken measures to support whistle-blowers and was considering further action.
The survey was sent out to the magazine's database of nurses and conducted online.
Some 84% of respondents to the poll said they had raised concerns about a colleague's practice or attitude.
A total of 23% of the nurses said they had done so "several times" or "regularly", and 23% "at least once".
But of those who had raised concerns, 52% said there had been no appropriate outcome after they had spoken out and a similar percentage said they had faced negative consequences as a result of doing so.
'Ostracised and bullied'
The poll comes after the public inquiry into the failings at Stafford Hospital - run by Mid Staffordshire NHS Trust - highlighted a lack of support for nurses who tried to raise concerns.
The inquiry report by Robert Francis QC argued for "fundamental change" in the culture of the NHS to make sure patients were put first.
Nursing Times editor Jenni Middleton said: "If we want to make sure Mid Staffs does not happen again, we must welcome the input of staff and ensure they are heard, without fear of reprisal."
She added: "I have personally spoken to nurses who, having raised concerns, have been sidelined and ostracised by their employers, bullied and marginalised by their colleagues - and end up feeling ashamed and guilty, as well as concerned that their careers are over.
"Regulation plays its part, of course, but the ability of staff to spot what's going on is irreplaceable in ensuring that the NHS is a safe NHS."
Dr Peter Carter, chief executive of the Royal College of Nursing, said: "It is extremely worrying that a large number of nurses still feel their concerns are going unheard, even worse that some have to live with the threat of reprisal."
Dean Royles, chief executive of the NHS Employers organisation, said that while there had been "enormous efforts" by employers to encourage staff to speak out "we need to do more to build their confidence that they can voice concerns in safety".
'Duty of openness'
Health minister Dan Poulter said: "We are determined that staff who have the courage and integrity to speak out in the interests of patient safety are protected and listened to.
"We have already taken a range of measures to protect and support whistleblowers in the NHS, including funding a national helpline, embedding rights in their employment contracts and issuing new guidance in partnership with trades unions and employers."
He said a new "contractual duty of openness" would apply to the NHS organisations from April when dealing with patients.
He added that ministers were also considering whether they needed to "go further" in the wake of the Stafford Hospital report.