Alcohol stance 'may please voters, but not doctors'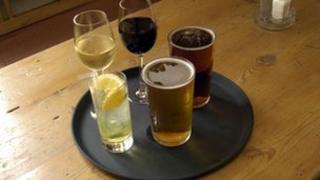 Minimum pricing for alcohol had always seemed an odd fit. In opposition, neither the Tories nor the Lib Dems had been that vocal in calling for it.
In fact, Andrew Lansley, who was the health secretary for the first two years of this government, was opposed to it.
However, slowly but surely it began to gather momentum. First, a 40p threshold was put forward and then - at the end of last year - 45p was proposed and consulted on.
That would have been ground-breaking. Along with Scotland, England looked set to become one of a very select band of countries to try to tackle problem drinking in this way.
Research has suggested a 45p minimum could reduce drinking by 4.3%, potentially saving 2,000 lives within a decade. This was why the idea had such strong backing from the medical experts.
More consumption
Drinking levels are considerably higher than they were 40 years ago.
Consumption may have tailed off in the last few years but alcohol intake is still 40% above what it was in the early 1970s.
A quarter of adults now drink to excess, causing more than one million hospital admissions and nearly 9,000 deaths a year.
Where we are drinking has also changed. Whereas four decades ago nine in 10 drinks were consumed in pubs and restaurants, today the split is almost 50:50 between in and out-of-home boozing.
This has undoubtedly been fuelled by the availability of cheap alcohol in the shops - the very thing minimum pricing is aimed at.
James Nichols, of Alcohol Research UK, says: "Specialists across the world agree that price is a key mechanism for tackling alcohol-related harms, especially among the heaviest drinkers.
"If the government decides to abandon minimum pricing it will have to explain how it will have to address the problem of very cheap alcohol."
But using cost is a crude tool. As well as hitting problem drinkers, it would also influence those who consume alcohol in moderation. Dropping the plan may win ministers votes - but it won't make them popular with doctors and health campaigners.