Heart expert queries Leeds surgery reopening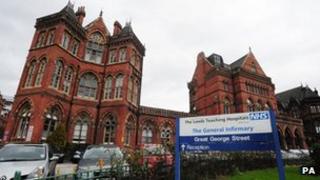 The government's ex-national director for heart disease says he would not want his daughter treated at Leeds General Infirmary's child cardiac unit.
Heart operations were suspended when incomplete data suggested the hospital had a mortality rate twice the national average but they resumed this week.
Prof Sir Roger Boyle told the BBC Leeds remains "on the edge of acceptability".
Leeds Teaching Hospitals NHS Trust said it has comparable rates to all other centres and there should be no concern.
The children's heart surgery unit was closed for 11 days after NHS England's medical director, Sir Bruce Keogh, suspended procedures for what he called a "constellation" of reasons.
These included an apparent higher mortality rate than the national average, concerns raised by families treated at the hospital and reports from two senior surgeons at other units.
The mortality data had been leaked by Sir Roger - director of the National Institute for Cardiovascular Outcomes Research, which oversees mortality figures across the NHS - the night before last month's suspension.
A rapid response team was dispatched to Leeds General Infirmary last weekend to assess the immediate safety concerns that triggered the suspension.
NHS England said that assurances had been received about the quality of surgery and staffing levels that were sufficient to allow the phased resumption of operations.
Earlier this week, Sir Bruce told the BBC he would now trust his own baby to be treated at the unit.
However, speaking to BBC Radio 4's The Report, Sir Roger - the Department of Health's former National Director for Heart Disease - said he still would not send his children to Leeds.
"I tell you that I have a young daughter, I would go somewhere else. I would go to Newcastle."
When asked whether operations should have remained suspended, Sir Roger said: "It's not my decision. I've not been involved in the inspections. I did my duty to say there is a concern here and that's all I said."
Sir Roger said that despite safety assurances over Leeds General Infirmary, the full analysis of the data called for the children's heart surgery unit to remain under supervision.
"We find they're just on the edge of what we call an alert. In other words, showing that they were at right on the edge of acceptability."
Figures from NHS England confirm that Leeds was "very close to the 'alert' threshold."
NHS England data highlights that two other children's heart units are also close to this threshold - Alder Hey Children's NHS Foundation Trust and Guy's and St Thomas's NHS Foundation Trust.
The document containing these figures states "these findings do not indicate a safety problem in any centre. However, centres with three-year outcomes approaching the alert threshold may deserve additional scrutiny and monitoring of current performance".
Guy's and St Thomas's did not wish to comment on the findings, but a spokesperson for Alder Hey said that while it was yet to see the numbers "we are pleased to learn that all children's heart units in England, including Alder Hey, are safe".
In response to Sir Roger's comments, Leeds Teaching Hospitals NHS Trust said analysis had shown Leeds to have comparable rates to all other centres.
Consultant cardiologist at Leeds General Infirmary, Dr John Thomson, said Sir Roger's assessment was unfair.
"I haven't had a chance to fully scrutinise these graphs, but in a rough look at the graphs I'm not absolutely sure that they're accurate," he explained.
"We are still going through some of this data. I would say that the wording is unfortunate there."
Sharon Cheng, of Save Our Surgery which campaigned for surgery to be resumed at Leeds, said Sir Roger Boyle's comments contradicted the rulings of NHS England, the Care Quality Commission and NHS medical director, Sir Bruce Keogh, who all said the unit was safe.
"Let me be absolutely clear - the Leeds unit would not be operating if there were any concerns whatsoever about mortality rates or anything else," she said.
"Once again, this is an example of Sir Roger Boyle speaking out without due regard to the necessary process, the verified facts or the implications of his actions on patients and their families. He is not an impartial party in regards to Leeds and as an adviser to the Safe and Sustainable review, we do question his motives."
Stuart Andrew, MP for Pudsey, Horsfirth and Aireborough also said there was "no basis" for Sir Roger's comments.
"The only person who seems to have a problem is Sir Roger Boyle. What is his other role? To advise the Safe and Sustainable Review into the long term future of heart surgery. He chose Newcastle and now here he is again. He has clearly shown his hand and this is awful, frankly," he said.