Hospital trusts 'not sharing details of complaints about doctors'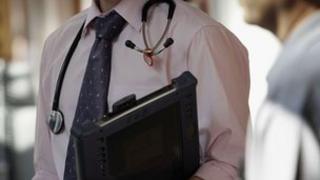 Some hospitals do not share information which could identify doctors who make repeated mistakes, the BBC has found.
Several hospital trusts said they had compensated patients following repeated allegations made against a doctor, but had not referred the incidents to the General Medical Council (GMC).
Some doctors have been involved in up to six unreported incidents.
The Department of Health said trusts had a legal duty to ensure their doctors were "fit to practise".
Individual trusts are also responsible for disciplinary action against staff, but there is no duty to pass on information about complaints to future employers.
Responding to a freedom of information request made to 163 NHS hospital trusts by 5 live Investigates, 13 said they had failed to inform the GMC about at least one doctor whose actions had resulted in more than one compensation payout, in the last five years.
Additionally, at around half of those trusts, some doctors had moved to other NHS trusts which were not told about the previous complaints.
Struck off
Surinder Venables, 49, was admitted to Basildon Hospital in September 2008 for a minor operation to remove three cysts.
Dr Nikolaos Papanikolaou performed a procedure in which he perforated her uterus when he tried to remove what he thought was abnormal tissue.
The GMC later found that he failed to recognise he had done this and failed to stop the procedure and ask for help.
As a result, Ms Venables had to have several further operations and died following a cardiac arrest on 25 October 2008.
Earlier this month Dr Papanikolaou was struck off the medical register by the GMC after it found numerous allegations related to seven cases were proven.
Five of these allegations related to his patients at Basildon hospital in the six months before Mrs Venables was admitted.
In one case, the GMC found him responsible for failing to carry out a caesarean on a high-risk patient, which led to a still-birth.
The hospital said that it carried out a "full investigation" following her death in 2008.
But the hospital trust did not report Dr Papanikolaou to the GMC.
That was later done by the father of another of his patients, who suffered poor care at Basingstoke and North Hampshire Hospital in January 2011.
Only then did the GMC consider his case, and following referral to an independent panel, strike him off the medical register.
Dr Papanikolaou has 28 days to appeal against the GMC's decision.
Ms Venables' brother, David Marjara, said he was devastated about the circumstances of his sister's death.
He said: "His practices should have been looked into deeply and if there was any doubt whatsoever then he should have been reported to the General Medical Council.
"These people should be investigated properly by the hospital and the NHS and then they should not be allowed to work."
Dr Papanikolaou was placed under supervision in October 2008.
In a statement, the Basildon and Thurrock University Hospitals NHS trust said: "When his employment came to an end, the trust immediately contacted his new employer, Ashford & St Peter's Hospitals NHS Trust, to inform them of concerns around some aspects of his clinical work."
Dr Papanikolaou later went on to work at the Basingstoke and North Hampshire Hospital, where he was found by the GMC to have made a further six errors in relation to one patient in January 2011.
Regulations shelved
5 Live Investigates has found that some NHS trusts have not told employers or the GMC of concerns about doctors who have allegedly been involved in poor practice.
In response to a freedom of information request, one trust, the Queen Elizabeth Hospital King's Lynn NHS Foundation Trust, reported that 42 of its doctors had been the subject of more than two patient complaints.
Of those doctors, 27, were involved in incidents which resulted in a compensation payout.
The trust said none of those doctors was referred to the GMC.
In a statement, the trust said: "There were no GMC issues that needed to be passed on to another employer amongst these cases."
It added that its policy "sets out a range of ways of addressing potential concerns about practice, only one of which is a direct referral to the General Medical Council (GMC).
"Clinical negligence claims are complicated, often involve more than one member of staff, and the reasons that they may be settled are numerous and varied."
Since 2010, the 'responsible officer' at each NHS trust has been under a professional obligation to refer concerns about doctors to the GMC.
Peter Walsh, the chief executive of Action Against Medical Accidents, said: "It seems that an ideological distaste for regulation is being put before patient safety.
"Too much faith is placed in local systems of clinical governance, failing to acknowledge conflicts of interest which lead to things being kept in-house or swept under the carpet.
"Employers have no statutory obligation to share information or even to refer serious cases to the GMC or other regulators."
Niall Dickson, chief executive of the GMC, said: "We have introduced local teams to work with the NHS frontline, regular checks on all doctors through revalidation, and new guidance to support doctors to raise concerns to help with this effort, but we know there is more to do."
A spokesperson for the Department of Health said: "Responsible officers - a senior doctor in each NHS Trust - also have a statutory personal responsibility to ensure that all doctors in their organisation are fit to practise and are appropriately trained and qualified for their roles."
You can hear the full report on 5 live Investigates on Sunday, 14 April, at 11.00 BST on BBC 5 live.
Listen again via the 5 live website or by downloading the 5 live Investigates podcast.