Child weekend emergency admissions give 'no added risk'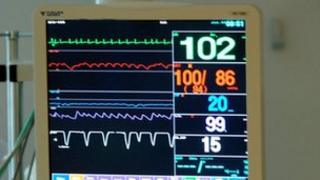 There is no added risk of death for children admitted to intensive care as emergencies out of normal hours, a study says.
Previous research had suggested an increased risk for weekend admissions.
But new work at Leeds and Leicester universities, looking at 86,000 child admissions to 29 units in England and Wales in 2006-11, found no difference.
The authors said it showed how having senior staff present mattered.
There have been previous calls for more involvement from senior doctors in health service care, with Sir Bruce Keogh, medical director of NHS England, calling in February for seven-day-a-week consultant-led care.
'Added pressures'
The latest study, published in the Journal of Pediatrics, was designed as the largest analysis of the impact of admission times on paediatric intensive care cases.
Out-of-hours admissions were defined as any admission at the weekend, night-time or on a bank holiday.
It found that those admitted at night or at the weekend had the same chance of survival as those admitted during normal working hours.
However, mortality rates were significantly higher in the winter, up 13%, even after taking into account added health risks for children in the colder months.
Further research is needed to discover why that is, the team say, though they suggest it could be added pressures on services.
'Consistency of quality of care'
Dr Roger Parslow, senior lecturer in the University of Leeds School of Medicine, who co-led the study, said: "Paediatric intensive care units have direct consultant input and dedicated staffing out-of-hours, so proponents of 24/7 consultant care may see this as supporting their case."
Prof Elizabeth Draper, of the University of Leicester, who also worked on the research, said: "The consistency of the quality of care provision by all paediatric intensive care units at any time during the week will be very reassuring for the parents of children requiring intensive care."
Dr Hilary Cass, president of the Royal College of Paediatrics and Child Health, said: "This study provides a reassuring message for parents: if your child is admitted to an intensive care unit, they'll receive the best possible level of care, day or night."
She added: "Paediatrics is a seven-day, 24-hour speciality.
"Whilst you can't necessarily translate the experience in intensive care to other settings, this study helps to bolster the case for increased consultant presence at the times when children need them most, and we have to be prepared to re-examine the way in which care is delivered to make this a reality."