Queen's Speech: Bad news for healthy lifestyles?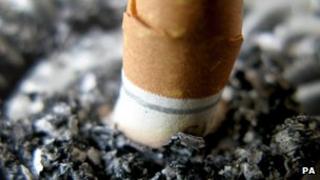 Sometimes it is what is omitted rather than what is included that is the most telling. In terms of the health aspects of the Queen's Speech, that could certainly be true.
Over the past 18 months, the government has been considering the merits of a minimum price for alcohol and of requiring cigarettes to be sold in plain packets.
Slowly but surely its enthusiasm for the measures gathered pace.
But this year, progress has shuddered to a halt.
Neither measure was included in the legislative programme for the next 12 months, which was announced on Wednesday.
Officially, the government is saying this does not mean the plans have been abandoned.
Health Secretary Jeremy Hunt took to the airwaves on Wednesday morning to point out the government was still free to introduce legislation even if it was not in the speech.
'Disappointment'
That is true. But normally a government would have been expected to set out its plans for two such high-profile initiatives.
Only Australia has introduced plain packaging, while alcohol pricing has been tried out in just a handful of areas (although it does have its critics in that it is a fairly blunt tool in that it increases costs for responsible drinkers as well as those that consume to excess).
So it is unsurprising public health campaigners have been left disappointed.
The response of Dr Janet Atherton, president of the Association of Directors of Public Health, is typical of the sentiment across the sector.
"We are disappointed," she says.
"There has been extensive public consultation on both issues and we believe that this should now be subject to early parliamentary debate.
"We strongly support both measures as effective ways to address two of the major public health issues facing this country."
Health professionals usually say the best and most effective initiatives are designed and organised locally.
But there is also a belief that they are helped if the government shows leadership on key issues.
It is why the Labour government's ban on smoking in public places was so welcomed.
Not only did it protect people from second-hand smoke, but it also encouraged more people to think about quitting.
And, what is more, it arguably kick-started a wider debate about unhealthy behaviours more generally from the quality of school dinners to drinking habits.
It is a point made by Prof Lindsey Davies, of the Faculty of Public Health.
"When it comes to policy decisions that affect everyone's health, it's actions, not words, that make a difference," she says.
"From compulsory seat belts to the smoking ban, we've seen that governments of all political persuasions need to show leadership and courage to protect people's health.
"Previously unthinkable interventions have become an everyday part of most people's lives because governments acted on the evidence for making ground-breaking policy decisions.
"We urge the UK government to think again and introduce legislation for standardised packs and minimum unit pricing."