Immune training MS trial 'safe'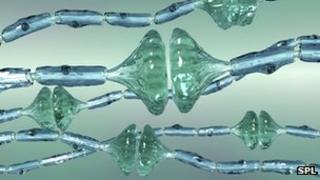 An experimental treatment to stop the body attacking its own nervous system in patients with multiple sclerosis (MS) appears safe in trials.
The sheath around nerves cells, made of myelin, is destroyed in MS, leaving the nerves struggling to pass on messages.
A study on nine patients, reported in Science Translational Medicine, tried to train the immune system to cease its assault on myelin.
The MS Society said the idea had "exciting potential".
As nerves lose their ability to talk to each other, the disease results in problems moving and balancing and can affect vision.
There are drugs that can reduce number and severity of attacks, but there is no cure.
Retraining
The disease is caused by the body's immune system thinking that myelin is a foreign body like a flu virus.
Researchers at the Northwestern University Feinberg School of Medicine developed a technique to retrain the immune system.
They took blood samples and coupled white blood cells, a part of the immune system, to fragments of myelin. This was injected back into the patients to make them tolerate myelin.
The researchers said the therapy appeared safe. The study was too small to prove whether it benefited patients, but the researchers did report a calming of the immune reaction.
Prof Stephen Miller said: "Our approach leaves the function of the normal immune system intact. That's the holy grail."
He said future trials would target patients in the early stages.
He said: "We want to treat patients as early as possible in the disease before they have paralysis due to myelin damage, once the myelin is destroyed, it's hard to repair that."
Dr Susan Kohlhaas, head of biomedical research at the MS Society, said: "Being able to specifically stop the immune system attacking myelin but still keeping it fully functional poses an exciting potential therapy for people with MS.
"We were interested to see this novel way of re-programming the immune system shown to be well tolerated in this very small study.
"More research is now needed and we eagerly await the results of any future larger clinical trials of this therapy."