NHS deal on branded-medicine cost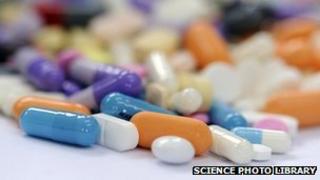 The government and pharmaceutical companies have agreed a five-year-deal to fix NHS spending on branded medicines across the UK.
Last year, the NHS spent more than £12bn on branded drugs.
Under the deal, NHS spending will remain flat for two years, followed by increases of less than 2% in the following three years.
But the industry, which will absorb any costs above that limit, said it was a "tough deal" built on "myth".
The Pharmaceutical Price Regulation Scheme (PPRS) is a voluntary scheme usually re-negotiated every five years
This scheme applies to all licensed prescription medicines to which the manufacturer has applied a brand name.
There had previously been an agreed price cut on the branded medicines sold to the NHS, but there was no limit on the overall cost.
Typical annual growth in NHS spending has been about 5%.
The new arrangements will be introduced from January 1 2014.
Challenges
Health Secretary Jeremy Hunt said: "This agreement ensures NHS patients will receive the best and most advanced medicines in the world while managing the cost."
But Stephen Whitehead, chief executive of the Association of the British Pharmaceutical Industry (ABPI), said: "Whilst the deal allows us to move forward and focus on the key issue of ensuring NHS patients get access to the medicines they need, the government needs to recognise that medicines are an investment in patient care and not just a cost to be managed."
ABPI president Deepak Khana added: "It should not be underestimated how tough this deal is for the industry.
"The negotiations were built on a myth that medicines are expensive in the UK, which is not true.
"The UK already spends amongst the lowest on medicines as a percentage of [gross domestic product] and has some of the lowest prices in Europe, yet UK patients still do not always get access to the most innovative medicines."