Philippines: 'early recovery' begins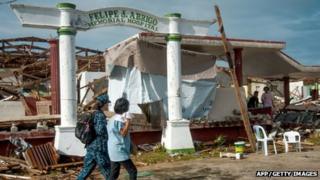 A month on from Typhoon Haiyan, the situation is moving from "emergency" to "early recovery programmes", health experts say.
The World Health Organization (WHO) says major priorities are now getting essential health care, including neonatal care and treatment of chronic diseases to more people, and starting to get clinics and hospitals damaged or destroyed by the storm up and running again.
The death toll from Typhoon Haiyan stands at over 5,700.
Around 11 million people were affected by the storm, more than 26 000 were injured, more than four million displaced - with many now living in cramped unsanitary temporary accommodation.
Such conditions increase the risk of the spread of disease.
WHO spokeswoman Aphaluck Bhatiasevi said: "The emergency phase is supporting people in the affected areas with their immediate needs, things like helping them get into some temporary shelter and supporting them with basics like food and water"
"We are now moving into the recovery stage which is re-establishing the health systems which have been disrupted or destroyed."
The vast majority of hospitals and health centres in the areas hit by the typhoon were either badly damaged or destroyed.
'Normal health needs'
Sixty-five foreign medical teams are delivering care in field hospitals across the affected areas along with 116 local medical teams.
So far the WHO says it's helped distribute more than 72 tonnes of medicines and supplies.
A mass immunisation campaign to vaccinate children under five in affected areas against measles and polio has been underway for 10 days.
So far around 8,000 children have been vaccinated in the worst hit areas in and around Tacloban.
The WHO says there haven't been significant reports of infectious disease yet.
"The majority of diseases that have been reported are related to respiratory infections, fever, diarrhoea, high blood pressure, some skin infections and wounds caused as a result of injuries sustained during the typhoon," said Ms Bhatiasevi
Medical teams are also dealing with the normal health needs of communities, including maternal and child health care.
An average of 865 women give birth every day in the affected areas, with around 130 of them experiencing complications.
In the remote area of Guiuan, medical charity Medicines Sans Frontiers (MSF) have set up a field hospital in tents on the site of the town's main hospital which was almost completely destroyed.
Anna Halford, originally from Colchester, is the field co-ordinator there. She said: "We now have 61-bed capacity, our operating theatre is functional"
"We had four C-sections back to back yesterday, nine deliveries of babies in total"
"A third of our consultations in the last week have been follow-ups of wounds received during the typhoon, but we are seeing more respiratory illnesses which are probably linked to the fact that people are more exposed [to outside because their homes were destroyed].
"We have also had a couple of suspect dengue cases and typhoid cases"
Changing needs
Anna has been in Guiun for three weeks now, and says people's needs have changed.
"At the beginning, MSF were doing distribution of tents as emergency night shelter.
"Within two weeks people had another priority so we are now giving people construction kits which is all the materials needed to build a 25m (82ft) square habitation with walls, floor and a roof, including tools"
But she says there is still a long way to go. Bodies are still being pulled from the debris.
Around 120 people are thought to have died in Guian, including up to 17 who are still missing.
Anna is one of those with the grim task of helping retrieve the bodies along with local volunteers.
They are sifting through an area of about 100m by 200m (328ft by 656ft), which is still up to 3m (10ft) deep in debris
She said: "This particular location has between 12-17 people still unaccounted.
"It's got to the point where it's difficult for a community of volunteers to start scrabbling around in there, so MSF will be helping with mental health support and also simple logistics and organisation to start recovering those bodies."
Many foreign medical teams are preparing to leave, especially in the run-up to Christmas.
Some will be replaced, and teams are also trying to hand services back to local health authorities.
But the WHO says it's critically important that gaps in services do not emerge and that international attention and support to the health sector does not wane.
Dr Julie Hall, WHO representative in the Philippines, said: "We must ensure that essential health services are not interrupted and that in the months to come, the Philippine government as well as humanitarian aid organizations and other key partners have adequate resources to restore health services across the affected regions,"